Islamic State militants 'behead Japanese hostage, offer swap for remaining one'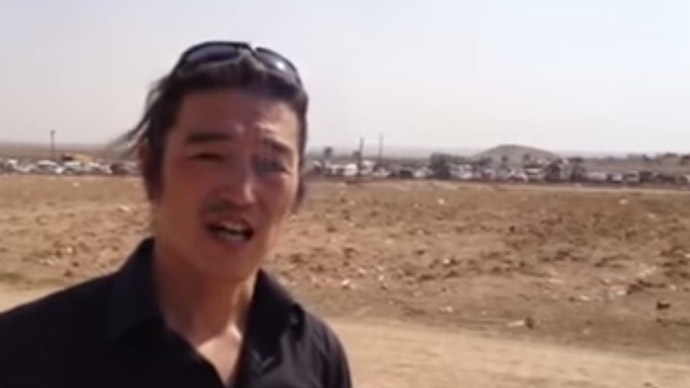 Tokyo has said that the video reportedly showing one of the Japanese hostages held by Islamic State appears to be "highly" credible. The hostage claims on camera his partner was executed and says the jihadists want him swapped for a female suicide bomber.
Kenji Goto shows a picture of the beheaded body of his fellow captive, Haruna Yukawa, reported the SITE Intel Group, an organization that tracks the online activity of terrorists.
In his message, Goto reportedly blames Japan's prime minister for Yukawa's death and says that the Islamic State now wants the release of Sajida al-Rishawi, an alleged attempted suicide bomber, who is believed to be connected to the attack on a hotel in Jordan in 2005.
Sajida al-Rishawi is currently in prison in Jordan. During the 2005 attack in Amman her suicide belt didn't detonate and she survived. Later she was captured and confessed, but later retracted her confession. She was sentenced to death in 2006, but appealed to the court and the case is still in process of appeal.
DETAILS: Haruna Yukawa beheaded by #ISIS, says another hostage Kenji Goto in video - reports http://t.co/jCbVl6aOXMpic.twitter.com/YvtPTpx4LK

— RT (@RT_com) January 24, 2015
The Japanese government could not fully confirm the authenticity of the video. However, Prime Minister Shinzo Abe said that the ongoing investigation has showed that it appears to be credible.

"We have been looking into its authenticity, but unfortunately at the moment we cannot help saying its credibility is high," he said on Japanese public network NHK.
After an emergency meeting on the situation, Abe said that Japan "will not give in to terrorism." He also called for the immediate release of the Japanese journalist on Sunday. "We are using every diplomatic channel and means to work towards a release," he told reporters. "This act of terrorism is an outrageous and unacceptable act of violence," Abe said.
"I feel a strong sense of anger and firmly condemn this. I again strongly demand the immediate release of Mr. Kenji Goto, unharmed," Abe said.
READ MORE: Japanese captive's mother begs for son's release, ISIS ransom deadline over
On Tuesday, the Islamic State (formerly ISIS) terrorist group published a video on several extremist websites showing two Asian men wearing orange fatigues standing on their knees alongside a masked man in black holding a knife. The man said the militant group demanded a $200 million ransom for the hostage's lives to be paid within 72 hours. This is the same amount of money that Japan had pledged to pay as a contribution to the US-led campaign against IS.
The Japanese Prime Minister reiterated that he will stand by his country's commitment not to pay ransoms while speaking on the phone with UK Prime Minister David Cameron on Thursday, Kyodo news agency reported.
However, his government vowed to rescue the Japanese nationals, with the Chief Cabinet Secretary Yoshihide Suga stating that the government "is doing everything it can, and saving lives is the top priority."
Meanwhile, Tokyo had failed to contact the militants to negotiate the release in the given time.
READ MORE: Japan says won't pay hostage ransom to ISIS as deadline looms
The Japanese hostage is the last alleged victim on the list of foreign hostages executed by IS militants in Syria and Iraq, for whom their governments refused to pay ransom. Among them are US aid worker Peter Kassig executed in November 2014, UK aid worker Alan Henning murdered in October 2014, UK aid worker David Haines killed in September 2014 and American journalists James Foley and Steven Sotloff, slain in August 2014.
You can share this story on social media: