'Not acceptable': Nabeel Rajab slams US media head for listing RT with terror groups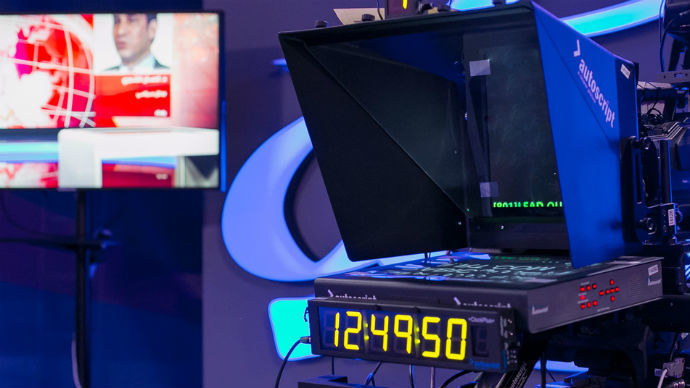 Whether you agree with RT or not, it is "not acceptable" to equate the channel with terror groups, prominent Bahraini activist Nabeel Rajab said, referring to a statement by Andrew Lack, who has listed RT as a challenge along with ISIS and Boko Haram.
"I was really shocked to hear that," Rajab told RT, while speaking about the statement that the newly-appointed chief of US Broadcasting Board of Governors (BBG), Andrew Lack, made on Wednesday.
READ MORE: Head of US state media put RT on same challenge list as ISIS, Boko Haram
Lack mentioned RT in an interview with The New York Times. "We are facing a number of challenges from entities like Russia Today which is out there pushing a point of view, the Islamic State in the Middle East and groups like Boko Haram," he said. "But I firmly believe that this agency has a role to play in facing those challenges."
Everyone has the right to criticize "but after all we have to respect the people's right to freedom of expression," said Rajab. "Russia Today is a respected organization" whether you agree with all RT says or not, he added.
"Russia Today was one of the very few TV channels and organizations that had been monitoring all the violations and human rights abuses in this part of the world," said Rajab referring to the Gulf States and Arab region.
"In our region most of the news channels and agencies belong to the repressive regime or are influenced by a repressive regime," he said adding that "we have to admit that RT has moved the freedom of expression in the region much ahead."
READ MORE: Bahraini protest rages as another opposition leader arrested (PHOTOS, VIDEO)
"A lot of American TV stations ignored our struggle" and "pled a double standard looking at their interests" said the Bahraini human rights activist criticizing the silence of Western media about the anti-government protests in the Gulf island country.
US state media chief associates RT with #ISIS & #BokoHaram Attacking #news instead of #terror is wrong #NEWSISNOTTERROR

— Thom Hartmann (@Thom_Hartmann) January 23, 2015
Rajab said that RT challenged Western media which is "frightened of competition". Other experts and activists have voiced similar thoughts.
"As a broadcaster, RT does indeed present a challenge to US international broadcasting in terms of competing for viewership," Director of Advocacy and Communications of the International Press Institute (IPI) Steven M. Ellis told RT.
In tune, editor of politics.co.uk Ian Dunt said that RT is viewed this way "because there's a terror in London and in Washington of new upstarts, of new information coming out and challenging the narratives that they have owned for the last 50 years or so."
Never mention your competition by name. You merely encourage fascination with someone you should ignore.

— Lionel (@LionelMedia) January 23, 2015
"We are in an information war and we are losing that war…. The Russians have opened up an English-language network." #Hillary in 2011

— Lionel (@LionelMedia) January 23, 2015
Ellis also urged Lack to phrase his comments more carefully adding that "RT obviously does not present the type of threat to journalists' physical security that entities such as the Islamic State group or Boko Haram pose."
RT is seeking clarification on the comment from BBG itself, the US State Department and the US Embassy in Russia.
You can share this story on social media: