#JeSuisAbdullah? Critics slam glowing Western eulogies for 'reformer' Saudi king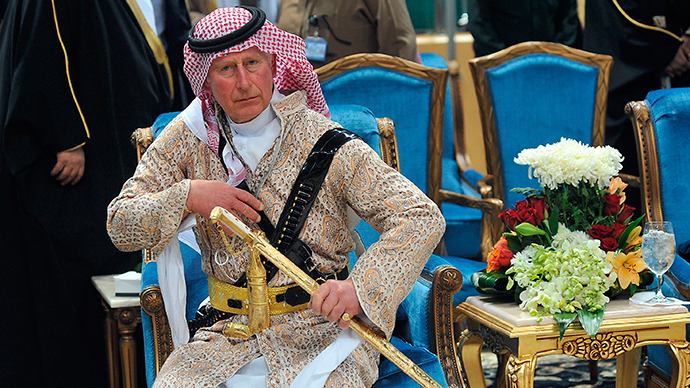 Critics are taking Western leaders to task for singing the praises of King Abdullah, the recently deceased 90-year-old monarch of Saudi Arabia, whose regime they claim was marred by countless human rights abuses, warmongering and corruption.
US Secretary of State John Kerry described the late king as "a brave partner in fighting violent extremism who proved just as important as a proponent of peace."
King Abdullah was a man of wisdom & vision. US has lost a friend & Kingdom of #SaudiArabia, Middle East, and world has lost a revered leader

— John Kerry (@JohnKerry) January 23, 2015
However, prior to a 2013 law which banned terrorist financing, Saudi Arabia had been described as "the most significant source of funding to Sunni terrorist groups worldwide," according to US diplomatic cable leaked by WikiLeaks.
Under King #Abdullah, Saudi became "the most significant source of funding to Sunni terrorist groups worldwide." https://t.co/EFxBRXwksM

— WikiLeaks (@wikileaks) 23 января 2015
Former US Defense Secretary Chuck Hagel called Abdullah "a powerful voice for tolerance, moderation, and peace," and lauded his dedication to "advancing the lives of his people at home as well as his country's leadership abroad."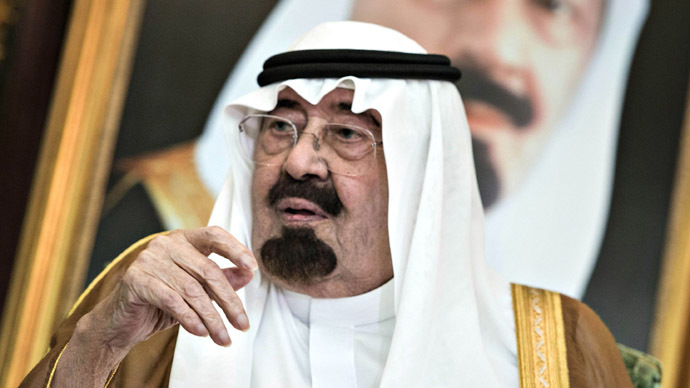 Another leaked cable revealed that Saudi King had urged the US to strike Iran in order to destroy its nuclear program. Abdullah was recorded telling America to "cut off the head of the snake," in a 2008 meeting with General David Petraeus.
The British establishment, meanwhile, remembers the King warmly, going so far as to request that flags around the country be flown at half-mast all day in honor of Abdullah. A government website notes that "local authorities are not bound by this request but may wish to follow it for guidance."
UK orders flags flown at half-mast for King Abdullah. Will return to lecturing the world about democracy tomorrow https://t.co/cebtl55gem

— Glenn Greenwald (@ggreenwald) 23 января 2015
Prince Charles has also flown to Saudi Arabia to pay his last respects to the late monarch. The Prince of Wales has made frequent visits to the oil-rich kingdom, even participating in a ritual sword dance alongside members of the royal family last year. He is believed to have been a close friend of Abdullah.
Former British Prime Minister Tony Blair said, "I knew him well and admired him greatly. Despite the turmoil of events in the region around him, he remained a stable and sound ally, was a patient and skillful modernizer of his country leading it step by step into the future."
"He was loved by his people and will be deeply missed." Tony Blair on the death of King Abdullah. http://t.co/BT9f5DbZpN

— Tony Blair Office (@tonyblairoffice) 23 января 2015
Tony Blair praises fellow moderniser King Abdullah http://t.co/ODB0XcKEpo Well, he did subvert UK justice to stop a bribery case for his pal

— Ian Birrell (@ianbirrell) 23 января 2015
Critics note that the monarch repeatedly moved to engineer further conflict in the Middle East. For instance, Abdullah had called on the US to provide more backing to the Sunni rebels fighting to overthrow the Assad regime in Syria.
In an Elysee Palace statement, France also lauded King Abdullah's "vision of a just and lasting peace in the Middle East."
Despite limited efforts, characterized by Human Rights Watch (HRW) as "marginal advances that failed to secure the fundamental rights of Saudi citizens to free expression, association, and assembly," Abdullah was unable to curtail his kingdom's routine rights' violations, including public floggings of dissidents and executions for sorcery.
What about funding terrorism, beheadings, flogging of journalists and women - I think Tony has a few blind spots! http://t.co/B4Uyokq1QH

— John Austin (@JohnEAustin) 23 января 2015
And yet, US Vice President Joe Biden expressed admiration for Abdullah's "efforts to move his country forward."
Chancellor Angela Merkel, though more measured in her praise, also voiced appreciation for the absolute monarch's "cautious modernization of his country."
Abdullah was widely praised in the West for sponsoring an eponymous coeducational graduate-level university, a breach of the taboo in the only country in the world where women are forbidden from driving.
Standing up for basic human rights can be challenging, if not dangerous in the ultraconservative kingdom. King Abdullah's four daughters, for example, have been kept locked up by their father for some 13 years for speaking out against the country's oppression of women.
"What is the crime of 99 percent of women in this country, who are basically suffering under male guardianship? A male guardian can do whatever he wants; he can cut off everything and she is left with nothing," they told RT in an interview last year.
Despite all this, head of the International Monetary Fund Christine Lagarde went so far as to praise Abdullah as a "strong advocate for women."
"In a very discreet way, he was a strong advocate of women. It was very gradual, appropriately so probably for the country. I discussed that issue with him several times and he was a strong believer," she said.
Following death of King Abdullah, US should press for #humanrights reform in #SaudiArabia: http://t.co/tFIvsKCGjU#FreeRaif@SaudiEmbassyUSA

— AmnestyInternational (@amnesty) January 23, 2015
Last summer, HRW noted a surge in executions in the kingdom. Between August 4 and August 21, the country executed at least 19 people, eight for nonviolent offense, like drug smuggling and sorcery. Convicted criminals are usually beheaded, though those convicted of crimes of morality such as adultery can be stoned to death.
In recent weeks, thousands gathered at Saudi embassies around the globe to protest the ruling against Raif Badawi, a Saudi blogger who was sentenced to 1,000 lashes and 10 years in prison for setting up a website that undermined general security and mocked religious figures. The blogger had originally been charged with apostasy, or abandonment of religion, a crime that is punishable with the death penalty.
In spite of this seemingly appalling human rights record and sketchy foreign policy peppered with warmongering, Western leaders are putting up a united front of support for the late monarch.
Many have taken to Twitter to lambast the apparent hypocrisy of these venerating eulogies. Some have even coined the #JeSuisAbdullah hashtag, expressing wry scorn for what they believe to be a tyrant glowingly misremembered because of his country's strategic importance to its Western allies.
Should we walk ? #JeSuisAbdullah for his contribution to freedom of the press and his great wisdom ? #RaifBadawi

— Hassan (@c_ha93) January 23, 2015
Imagine how the US media would be talking about King Abdullah if he were a US adversary rather than close & loyal "ally."

— Glenn Greenwald (@ggreenwald) January 23, 2015
So Westminster Abbey is saying #JeSuisAbdullah ? your class war is so brazen, I can't even

— Nagihan Haliloglu (@NHaliloglu) January 23, 2015
You can share this story on social media: