Dozen former French soldiers, including elite troops, join ISIS - reports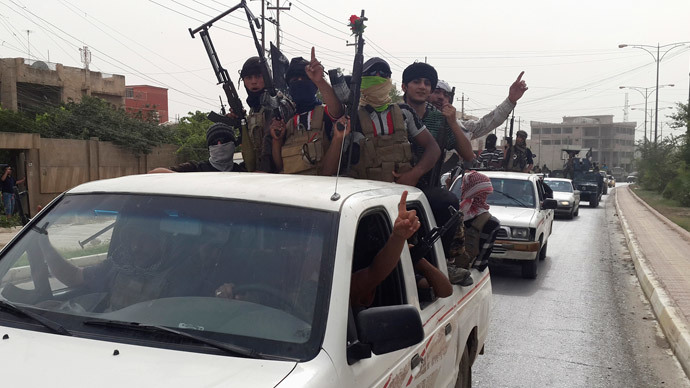 A dozen former French soldiers, mostly from special forces and the Foreign Legion, have joined jihadists fighting in Syria and Iraq, a defense ministry source confirms, as the government readies a new multimillion anti-terror plan.
Reports of French ex-military turning to jihad first appeared on Radio France Internationale (RFI) and in L'Opinion daily on Wednesday.
An anonymous defense ministry source later confirmed the information to AFP.
"We estimate around a dozen former troops have joined these networks," the source said. "Our concern is not former soldiers... It's preventing the phenomenon of radicalization within our forces."
Defense Minister Jean-Yves Le Drian, however, would not directly comment on the issue at a Wednesday press conference on France's new anti-terrorism measures.
€425mn anti-terror plan: France to hire thousands of extra police, spies & investigators http://t.co/usByqXCIAXpic.twitter.com/4n3cRIQ1a6

— RT (@RT_com) January 21, 2015
"The cases of former soldiers being tempted by jihadist adventure are extremely rare," was all he said.
One shouldn't underestimate those rare cases, David Thomson, RFI journalist and author of The French Jihadists, believes.
"These people who come [to Syria and Iraq] are already fighters and they know the way the French troops fight," Thomson told Le Figaro.
Among soldiers-turned-jihadists are those who served in the Foreign Legion and former paratroopers, RFI says, adding that some of the fighters confessed to being former French soldiers on social networks.
IMAGES: French armed forces on patrol in #Paris, #France. Inc. are French Foreign Legion (green) & Paratroopers (red) pic.twitter.com/GWhCqMakf1

— Military Studies (@ArmedResearch) January 19, 2015
"Others are explosives experts, young people in their twenties. Some have been converted [to Islam], others are from Arab-Muslim culture," the RFI report says.
L'Opinion singles out a French jihadist of Maghreb origin, who served in the elite 1st Marine Infantry Parachute Regiment for five years and underwent commando training in fighting techniques, shooting and survival.
The man was then hired by a private security company to work on oil facilities in the Arabian Peninsula.
"He was gradually radicalized, letting himself grow a beard and adhering to Islamist ideology," the daily writes, adding the man eventually went to Syria.
The Defense Ministry plans to monitor its recruits as well as ex-soldiers more closely to prevent possible radicalization. The army's 1,000-strong internal intelligence unit will get 65 extra staff for that purpose, Le Drian announced on Wednesday.
You can share this story on social media: