New island created in Tonga volcanic eruption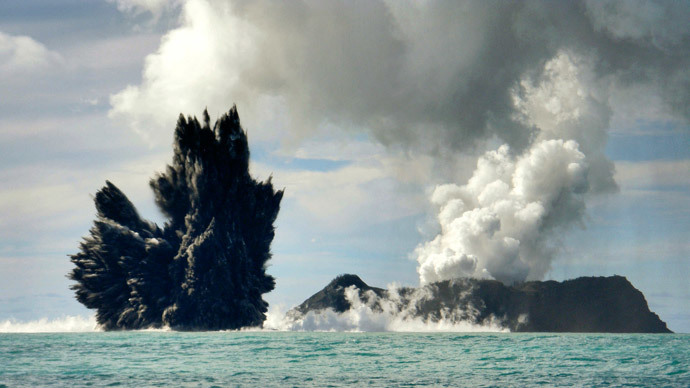 A volcanic eruption taking place in the Pacific archipelago of Tonga has created a new island, though scientists say it could soon sink back into the ocean.
The volcano has been erupting for approximately a month in the ocean, 65 kilometers northwest of Tonga's capital, Nukualofa, located on the main island of Tongatapu.
Better update your maps, Tonga now has 177 islands, thanks to volcano http://t.co/t9ji0I6oKMpic.twitter.com/LXU4bGX7OE

— Stuff.co.nz News (@NZStuff) January 15, 2015
The island, which has not yet been named, is around 1.8 kilometers by 1.5 kilometers and rises around 100 meters above the sea.
"It's quite an exciting site, you get to see the birth of an island. Visually it was quite spectacular, but there was no big sound coming with it, no boom. It was a bit eerie," said Nico Fournier, a New Zealand volcanologist, reported AP.
Amazing photos of an eruption that's spawned a new island in Tonga: http://t.co/Wj6pQGhhc8pic.twitter.com/OKEpVbSKU8

— ONE News (@ONENewsNZ) January 16, 2015
When the volcano stops erupting, the ocean will likely erode the Island in just a few months, as it is made mainly of loose scoria and not lava, which is much more durable. The ocean around the new island is fairly shallow, up to 200 meters deep.
"The Tongan volcano has created a substantial new island since it began erupting in December" #Tongapic.twitter.com/38CvJ0QB5a

— Joseph Jett (@josephjett) January 19, 2015
Fournier added that the volcano was mainly emitting steam and that the small amount of ash it was emitting was rising only around 2 kilometers into the air.
As a result of the ash, flights in the vicinity of the Pacific archipelago were halted for several days last week.
A volcano has created a new island in Tongo - http://t.co/RljSLqeOZupic.twitter.com/ryNeSpRVZA

— Fraser Cain (@fcain) January 19, 2015
You can share this story on social media: