Top Islamic group urges UN ban on 'contempt' of religions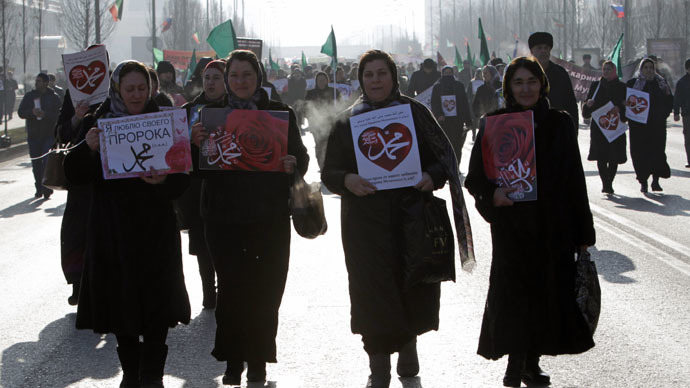 A leading Islamic organization has called on the United Nations to make "contempt of religions" illegal. The group also urges followers to continue peaceful protests against images of Prophet Mohammed and says the West should do more to protect Muslims.
The International Union of Muslim Scholars, which is based in Qatar, has urged Muslim's "not to resort to violence," after a cartoon of the prophet appeared in the French magazine Charlie Hebdo. Its publication following the January 7-9 terror attacks in Paris, led to widespread protests across the Muslim world, some of which turned violent.
Influential preacher Yusuf al-Qaradawi wants a law to be brought in by the UN to forbid the "contempt of religions," according to an article he wrote, which was published on the organization's website.
"The Union calls on Islamic countries to submit a global law draft criminalizing the defamation of religions and the prophets and the holy sites of all, through a global conference to discuss clauses in complete freedom," the preacher added.
He condemned the decision by the French journal to publish the cartoon saying that it gave "credibility" to the idea that "the West is against Islam," AFP reported.
Al-Qaradawi has called on the West to provide better protection for Muslims living in Western countries. Since the terrorist attacks in Paris, there have been over 100 threats made against Muslims living in France, which is double the number of offenses recorded for the whole of January 2014.
READ MORE: Islamic scholars speak out against expulsion of Iraqi Christians
The Union concluded its message by urging all nations and civilizations to try and coexist peacefully, though it does admit that this harmony is being threatened because of the recent events. Al-Qaradawi, who is seen as the spiritual guide of Egypt's banned Muslim Brotherhood, has called on the United Nations and other organizations to do all that it can to restore peace and order, which he also believes would be an effective tool in reducing terrorism.
You can share this story on social media: