No small beer: German firefighters make XXL truck with ale crates (VIDEO)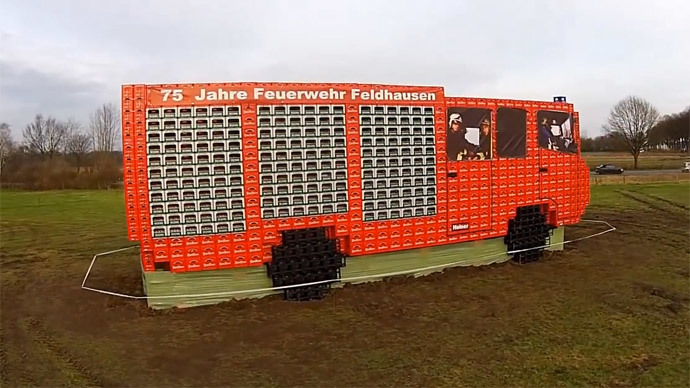 Volunteer firefighters in a small town in North Rhine-Westphalia made an attempt to break the Guinness World Record, by building a fire engine from nearly 4,740 beer crates, local media reported.
It took volunteers from the Feldhausen Fire Service a whole day to construct a 15.5-meter-long "vehicle" that could be featured in the Guinness Book of Records, the Dorstener Zeitung newspaper reported on Monday.
To document the event and prove that there was no cheating, participants filmed the whole process from three different angles. Now, firefighters are reviewing the materials made by eye-witnesses.
A field near the town of Dorsten in northwest Germany attracted dozens of spectators who came to see how the ambitious project was carried out by cherry picker cranes and good old-fashioned elbow grease.
The construction was completed by 10:30 pm on Saturday. There was a small delay, so a night shift team had to be involved.
"The individual parts were done quickly, but it took longer than we thought to put them all together with the crane," organizer Florian Spickermann told the newspaper, adding that the firefighters were "pleased and happy, but totally worn out."
The success of the firefighters will be announced in three months, and it's hoped that the "truck" will make an appearance at the fire department's jubilee party in July.
You can share this story on social media: