Diapers & wafers: Manila traffic cops wear nappies to patrol Pope's record-breaking mass (VIDEO)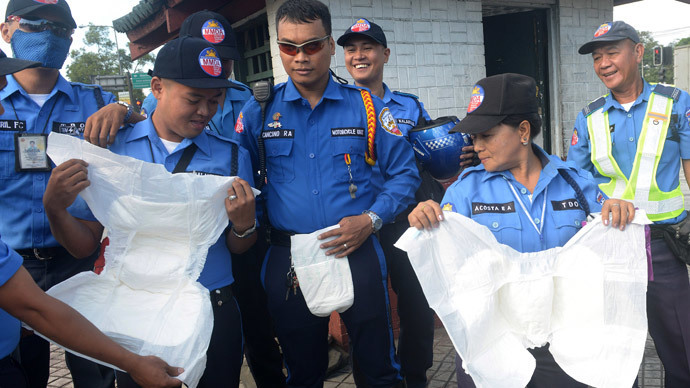 A lack of portable toilets forced hundreds of Philippines traffic police officers to wear adult-sized diapers while patrolling Pope Francis' outdoor mass in the country's capital, Manila, on Sunday.
Despite their ridiculous looks, the bare-legged officers in giant nappies succeeded in managing the record 6 million believers as the 24-hour event went ahead without serious incidents.
The decision to dress 2,000 of its employees in diapers for the visit of the Pontiff was announced by the Metropolitan Manila Development Authority (MMDA) on January 6.
The supervisors explained that standing in long lines for the toilet would hamper the ability of the traffic police to steward the massive crowds.
MMDA official Emerson Carlos told AFP that "there have been no complaints" from the traffic police officers over the initiative.
The Authority's chairman, Francis Tolentino, even advised all the visitors of the mass, including priests, nuns and the elderly people, to put on nappies as well.
"If you attend an event that will last for 24 hours, you can't go around looking for a [portable toilet]," Tolentino told AP.
The Manila mass completed the Pope's Asian tour, during which he spent four days in the Philippines and also visited Sri Lanka.
The last official Papal visit to the Philippines – where 80 per cent of the country's 100 million population are Roman Catholics – took place almost two decades ago.
You can share this story on social media: