Yemen rebels seize TV station, surround PM residence amid clashes in capital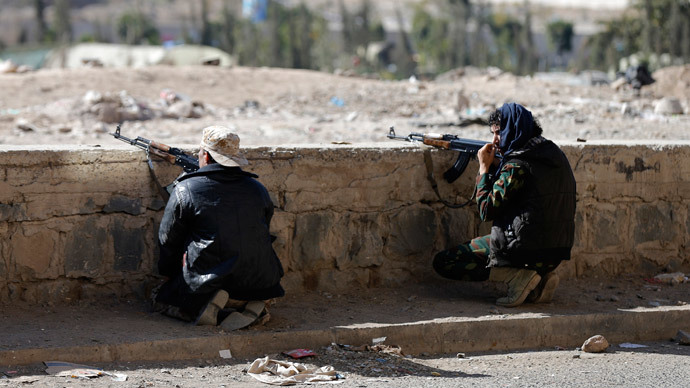 As Yemeni Houthi fighters and army troops waged gun and mortar battles near the presidential palace in Sanaa, the rebels captured the country's state news agency and TV station. Monday marked the country's most intensive clashes since September.
"The Houthis have taken the state information agency SABA," Information Minister Naser Taha Mustafa told Al Arabiya TV. "The takeover is a step toward a coup."
The clashes were focused on an area near the presidential palace and the residence of the national security chief. The diplomatic compound in southern Sanaa was also affected. It was not immediately clear whether President Abd-Rabbu MansourHadi was in his residence at the time.
أعمدة الدخان تتصاعد من دار الرئاسة اليمنية في #صنعاءpic.twitter.com/X6piLIhQmb

— Zaid Benjamin (@zaidbenjamin) January 19, 2015
[Columns of smoke rising from the presidential house in Yemen]
The street battles in Sanaa lasted for hours, leaving at least two people killed and 14 wounded. The motorcade carrying Prime Minister Khaled Bahah came under fire at a Houthi checkpoint as he was leaving a meeting with President Hadi and his Houthi adviser, Saleh al-Samad, aimed at deflating tensions.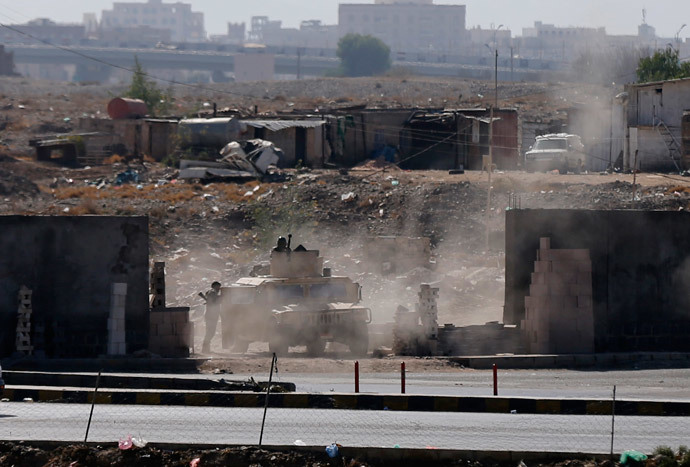 READ MORE: Fatal error in 'wedding party' drone strike prompts UN condemnation
A ceasefire was agreed later in the day, although it is not clear if it will hold. Samad published a list of demands, including what the Houthi called fair representation for Ansarallah, their political wing, and amending sections in the draft constriction violating a September agreement, which made the movement part of the government.
"If the previous agreement is not honored, there is a commitment to escalate the situation...and it is difficult to undo the escalation, which will come at a big cost," he said.
The controversial draft constitution was published Saturday. It aims to alleviate numerous tribal, sectarian and regional conflicts in the country, which has faced separatism in the south and an ongoing Al-Qaeda campaign.
Government sources said on Monday evening that armed Houthi gunmen had surrounded Yemeni Prime Minister Khalid Bahah's Republican Palace residence just hours after he escaped an assassination attempt.
"The gunmen have surrounded the palace and the prime minister is inside," Reuters cited government spokesman Rajeh Badi as saying.
Earlier in the day, Houthi forces were said to be in talks with the president President Abd-Rabbu Mansour Hadi.
"Houthis in meeting with president to agree on terms for releasing chief of staff in return for changes in constitution and national authority," Information Minister Nadia al-Saqqaf wrote on her Twitter account.
READ MORE: 30 killed, 50 injured in car bomb blast at Yemen police academy
Houthi Shiites, who are widely viewed as Iran's allies in struggle for regional power against Saudi Arabia, seized Sanaa and some other parts of the country last autumn. They have since become part of the Yemeni government, but tensions with the Sunni majority have persisted. The escalation of violence came as the Houthis objected to a constitutional reform reducing their influence on government.
You can share this story on social media: