Thousands cheer Chadian troop deployment against Boko Haram (PHOTOS)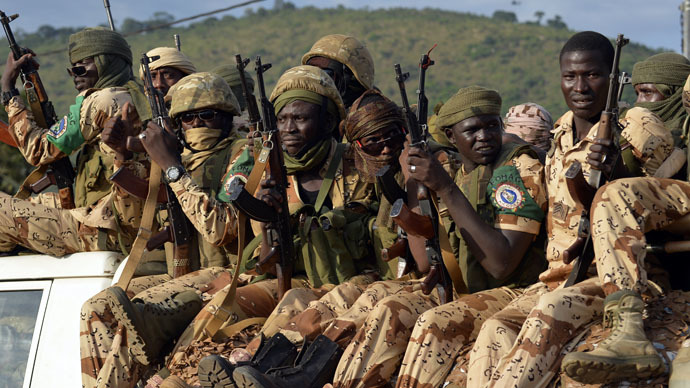 Thousands of people have marched in the Chadian capital N'Djamena in support of the government's decision to send troops and armored vehicles against Boko Haram to challenge the Islamist advance in Nigeria and Cameroon.
READ MORE: Satellite images reveal 'horrific' scale of Boko Haram attack in Nigeria
People took part in the rally to show their support for the government's decision to take part in a regional force.. Last Wednesday, Chad said it would support Cameroon, whose president, Paul Biya, appealed for an international response to the radical Islamist threat.
At the beginning of this year, Boko Haram fighters launched a full-scale assault on the border town of Baga near Lake Chad, which has a border crossing with Chad, Nigeria, Niger, and Cameroon.
READ MORE: No oil, no 'protection'? Boko Haram massacre in Nigeria sees little reaction from US
Prime Minister Kalzeube Pahimi Deubet said the march sent "a strong signal, a warning to Boko Haram," AFP reported.
Chad's PM Kalzeube Pahimi Deubet leads a rally in N'Djamena, 17th Jan, showing support 4 decision 2 send troops 2 Cmr pic.twitter.com/siAPfYGmOP

— Muktar (@JanguzaArewa) January 17, 2015
It is "a march for peace to protect our vital interests, to protect our economy, to protect Chad's security," Deubet said as tens of thousands chanted "kick the forces of evil out of our territory!"
The support rally coincided with the first troop arrival to Cameroon. Thousands of locals cheered the arrival of 400 armored vehicles, including tanks, to the town of Kousseri.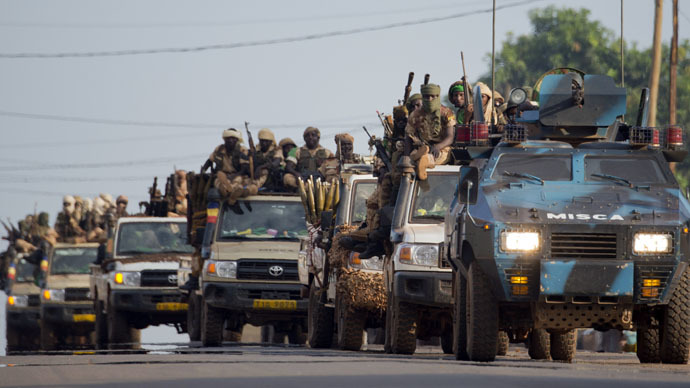 Entrée triomphale de l'arnée #Tchad à #Kousseri#Cameroun#BokoHarampic.twitter.com/SbGLGW2GRp

— David Wanedam (@DavidWanedam) January 17, 2015
On Thursday, Chad's parliament anonymously approved the sending of an unspecified number of troops to assist Cameroonian and Nigerian soldiers.
"We answered the call of [Cameroon's] President Paul Biya. We cannot remain indifferent to what happens to our neighbors," Chadian President Idriss Deby said in a speech.
Soldats Tchadiens jubilant de joie à l'annonce de Deby qu' ils iront combattre #BokoHaram. @tchadinfos#Tchadpic.twitter.com/u9r0vLkR9V

— Tibila (@NTebila) January 16, 2015
"Cameroon must not be left alone to face this threat that has so hurt innocent people in Cameroon and in Nigeria" he added, calling for a "broad coalition" to fight Boko Haram.
Boko Haram atrocities are estimated to have left at least 13,000 dead. Around 1.5 million people have also fled from their homes as jihadists have captured large parts of northeastern Nigeria.
#Tchad : importante manifestation de soutien à l'armée contre #BokoHaramhttp://t.co/CYuU0vQqcjpic.twitter.com/84BxPmkp9C

— SUNU SITE (@sunusite) January 17, 2015
You can share this story on social media: