Most people easy to convince they committed a crime that never happened – study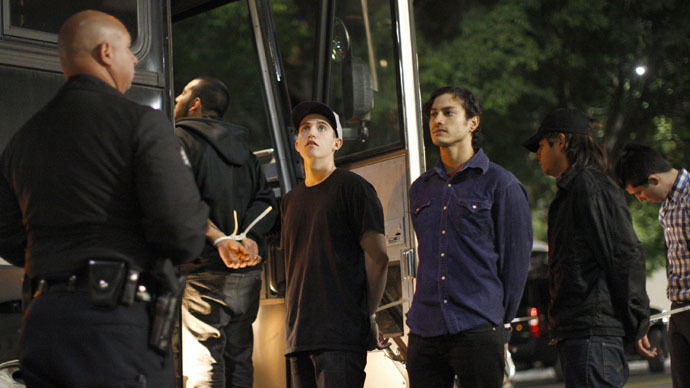 With enough personal background information about someone's past, an interviewer can quite easily manipulate that person into confessing to a crime that he or she did not commit – or which never even happened, alleges a new study.
Researchers from Britain's University of Bedfordshire and Canada's University of British Columbia based their study on a questionnaire filled out by the primary caregivers of 60 university students. The relatives were requested to describe events that the students experienced between the ages of 11 and 14.
Upon receiving the surveys, psychologists then questioned the students themselves about their past experiences, in a series of three 40-minute "friendly" interviews.
Researchers announced that 70 percent of participants were eventually tricked into believing they committed a crime – including theft, assault, or assault with a weapon – that led to police questioning.

The research, published in Psychological Science, shows that those students surveyed internalized the stories they were told, later re-telling them in great detail – even though they never took place. With "suggestive memory-retrieval techniques," those questioned generated "criminal and noncriminal emotional false memories" that were compared with "true memories of emotional events," the study says.
During the first line of questioning, researchers spoke to each student about two events he or she went through as a teen – with only one of those events being real. Participants were asked to recall what happened in each of the occurrences.
When test subjects had trouble explaining the false event, the psychologist pushed on and encouraged them to recall either way, explaining to them that if they used "specific memory strategies" they might remember more.
During the second and third interviews, the researchers again asked the participants to remember as much as they could about both events.
"All participants need to generate a richly detailed false memory is 3 hours in a friendly interview environment, where the interviewer introduces a few wrong details and uses poor memory-retrieval techniques," Julia Shaw of the University of Bedfordshire, a co-author of the study, said in a statement.
"In such circumstances, inherently fallible and reconstructive memory processes can quite readily generate false recollections with astonishing realism," said Shaw. "In these sessions we had some participants recalling incredibly vivid details and re-enacting crimes they never committed."

This is the first study of its kind that provides evidence suggesting that "full episodic false memories of committing crime can be generated in a controlled experimental setting," the paper says.
Out of the 30 students whose "false event" involved some criminal activity, 21 were classified by the authors as having developed a "false memory" of the crime following the interviews. Eleven out of 15 students whose "crime" involved assaults or armed assault described the nature and "details of their exact dealings with police."
The participants who were classified as having false memories of committing a crime indicated that they had later tried to recall and visualize the false event at home, five times on average, and had "low suspicion that the interviewer was trying to manipulate them somehow."
"Understanding that these complex false memories exist, and that 'normal' individuals can be led to generate them quite easily, is the first step in preventing them from happening," Shaw concluded. "By empirically demonstrating the harm 'bad' interview techniques – those which are known to cause false memories – can cause, we can more readily convince interviewers to avoid them and to use 'good' techniques instead."
You can share this story on social media: