Churches torched, 5 killed as Niger's anti-Charlie Hebdo protest escalates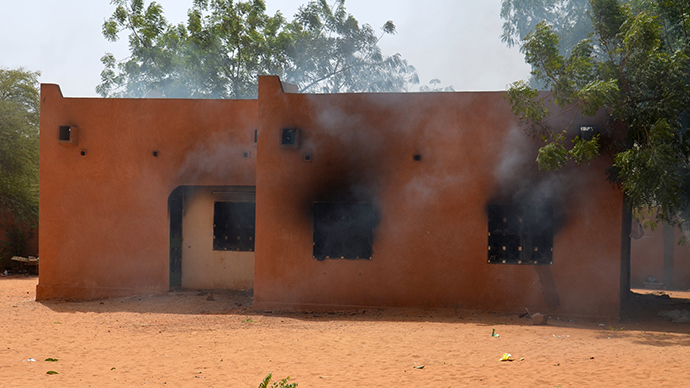 Police fired tear gas as hundreds of Niger Muslims came out to yet again protest Charlie Hebdo's satirical cartoons targeting Islam. At least five people were killed and several Christian churches set on fire by rioting crowds throughout the day.
Niger, a former French colony, has been gripped by Charlie Hebdo-fueled violence since Friday, when a protest rally in front of a French cultural center led to deadly clashes in which three protesters and a police officer were killed. Another victim's body was discovered by emergency services inside a burned church, bringing Friday's death toll to five.
On Saturday, Niger police again used tear gas against at least 1,000 aggressive young demonstrators in the capital, Niamey, who burned tires and pelted the security troops with stones. At least two police cars were burned out as the angry crowd retaliated against a decision to ban a march organized by local Muslim leaders.
At least five people were killed in the protest on Saturday, police sources said, bringing the overall death toll to 10. Two charred bodies were removed from a torched church on the outskirts of the capital. A woman's body was also found in a bar; she is believed to have died of asphyxiation from tear gas and smoke, Reuters reported.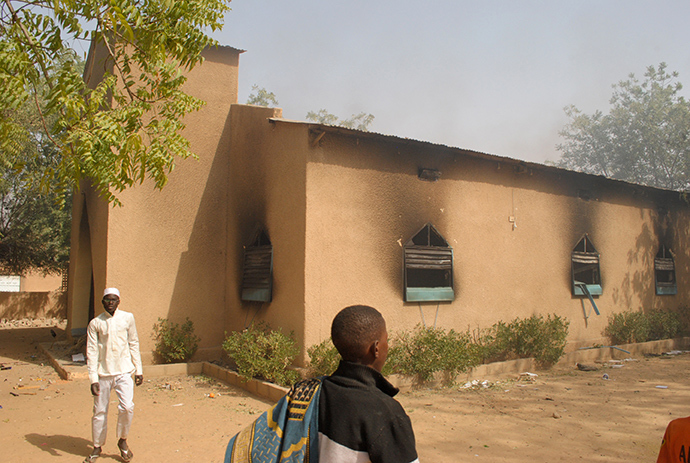 In total, at least eight Christian churches were set on fire and ransacked across the country, AFP reported, as religious-linked conflict escalates in the country. The most recent tragedies bring the death toll in the West African country to eight over the past two days.
Yemen on Saturday also saw renewed demonstrations against the Charlie Hebdo cartoons.
BREAKING: Protesters march to the #French embassy in #Yemen to protest against #CharlieHebdo caricatures.

— Ruptly Newsroom (@RuptlyNewsroom) January 17, 2015
Meanwhile, in Russia's predominantly Muslim republic of Ingushetia, some 10,000 people showed up to denounce both extremists hijacking Islam to spread a message of hatred and violence and those in the west who equate deliberate insulting of Muslims' faith with defending freedom of speech.
A video posted by Муса (@musa_bariev) on Jan 17, 2015 at 12:49am PST
The protests on Friday after Muslim prayers were held across the Muslim word, with mostly peaceful rallies reported in Algeria, Syria, India and The Philippines. In Jordan there were clashes with police as demonstrators tried to march to the French embassy, while in Pakistan's Karachi police used tear gas to disperse a crowd of some 200 people.
READ MORE: 4 killed in anti-Charlie Hebdo march in Niger amid global Muslim protests
Meanwhile, French President Francois Hollande defended the pro-Charlie Hebdo drive in the wake of the deadly assault on the satirical weekly last week, saying it was part of defending freedom of expression, an essential western value.
"I'm thinking of countries where sometimes they don't understand what freedom of expression is because they have been deprived of it. But also, we have supported these countries in their fight against terrorism," Hollande said of the anti-Charlie Hebdo rallies.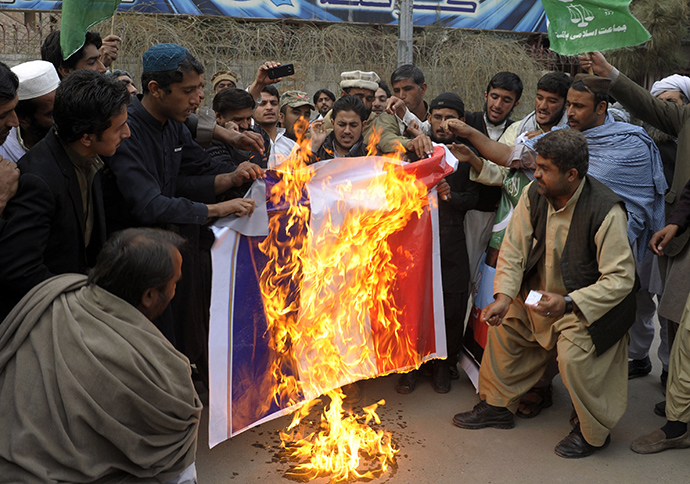 The latest issue of Charlie Hebdo saw a surge of sales in the wake of the tragedy. Surviving journalists initially expected a million of copies to be sold, but now the issue is aiming at a target of 7 million copies, a far cry from the usual circulation enjoyed by the fringe publication.
The issue features Islam's Prophet Muhammad holding a placard reading "Je suis Charlie" and the headline, "All is forgiven." Depicting images of Mohammed is forbidden in Islam and is considered a grave offense.
Last week, three Islamist gunmen went on a rampage in Paris, starting with the killings at Charlie Hebdo and continuing with a hostage-taking at a kosher store. The attacks claimed 17 lives.— Output - Tim Wall, Today 16:45
You can share this story on social media: