Middle East cartoonists take on Israeli, Arab leaders in #CharlieHebdo response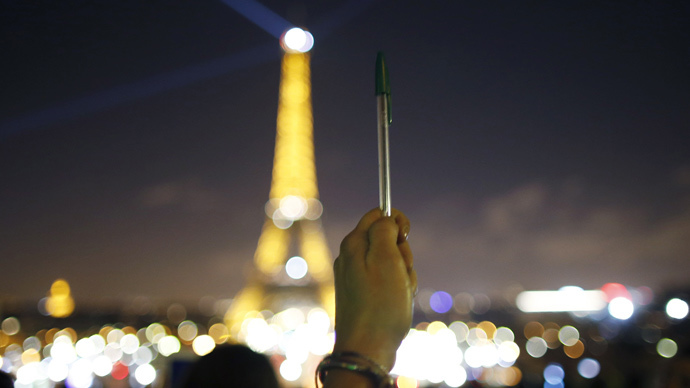 Top cartoonists in the Middle East have stood up for freedom of speech following the Charlie Hebdo attack, while simultaneously slamming Israeli and Arab rulers for their attempts to benefit from the tragedy.
The massacre at French satirical weekly Charlie Hebdo on January 7 led to wide public outcry, with European cartoonists drawing numerous pictures to condemn the Islamic radicals responsible for the attack.
But it wasn't just European caricaturists who took to the drawing board; cartoonists from Jordan, Sudan, Lebanon, Qatar, and other countries also dedicated their work to the 12 victims.
Jordan's Emad Hajjaj drew a black scimitar – which symbolizes terror – splitting in two pieces after smashing into a text bubble reading: "Freedom of speech."
charliehebdo,#IamCharlie, #JeSuisCharlie #كاريكاتيرـعمادـحجاج في ادانة العمل الارهابي الذي استهدف صحيفة #شارليـايبدوpic.twitter.com/UpqIPkeXwI

— Emad Hajjaj (@EmadHajjaj) January 9, 2015
Sudanese caricaturist Khalid al-Baih stressed that ordinary Muslims find themselves stuck between a rock and a hard place, due to the actions of Islamic radicals.
"I'm just a Muslim" pic.twitter.com/vaP5HUWbmj

— Je Suis Supercujo (@supercujo) January 9, 2015
In the most shared piece of work, Brazilian-Lebanese cartoonist Carlos Latuff drew the gunmen striking the mosque behind the Charlie Hebdo office with their bullets, instead of hitting the magazine's HQ.
Please, RT! #CharlieHebdo attack has another victim! Via @MiddleEastMnt#ParisShootingpic.twitter.com/PNesB88POL

— Carlos Latuff (@LatuffCartoons) January 7, 2015
A week after the tragedy, Latuff criticized the media's obsession with Charlie Hebdo, suggesting the victims would have wanted such attention to have died down by now.
Please, RT! #CharlieHebdo's obsession! Via @operamundi#JeNeSuisPasCharliepic.twitter.com/RJ4FBdlZv8

— Carlos Latuff (@LatuffCartoons) January 13, 2015
At the same time, many Middle Eastern cartoonists used the Charlie Hebdo attack to slam their usual target – Israel – and its violence against the Palestinians.

Arab 21 news website tweeted a cartoon which showed a European man with a viper emerging from his mouth and the heading: "Anti-Muslim."
The image beside it showed the same man with a padlock in his mouth and the word "Anti-Semitism."
كاريكاتير | حرية الرأي في الغرب . pic.twitter.com/HcYBIMBpyK

— برق (@barq_news) January 15, 2015
A Turkish cartoonist accused Israeli Prime Minister Benjamin Netanyahu of trying to take advantage of the bloodshed in Paris, as he has extended an invitation for French Jews to emigrate to Israel.
During the three days of violence in Paris, a separate attack took place at a kosher grocery store.
@netanyahu takes his opportunity from #JeSuisCharlie (Cartoon from @turkyepost) pic.twitter.com/vP0gO3FsJQ

— Sebastián Quiroga (@sequirogac) January 16, 2015
Arab leaders were also under cartoon fire due to their response to the series of attacks in the French capital.

Palestinian President Mahmoud Abbas was pictured laying flowers on the graves of the Charlie Hebdo victims, but "completely forgetting" about his 2,192 compatriots killed in the Gaza war last summer.
#كاريكاتير ساخر من حقيقة الحكام الجرب عففوااا #العرب !! pic.twitter.com/LK0LKKuzU7

— ™•أبو وسام-الشامي•™ (@00_KH_AT_AB_00) January 16, 2015
A caricature by Ahmed Rahma, which was aired by Al-Jazeera, pictures an Arab leader on his way to Paris with a "Je Suis Charlie" banner in his hands, while journalists are being placed behind bars.
#كاريكاتير .. للفنان أحمد رحمة pic.twitter.com/YlLqLLs3me

— Palinfo (@PalinfoAr) January 15, 2015
The king of Jordan and ministers from Egypt, Algeria, Saudi Arabia, and Turkey participated in the Paris march to commemorate those who died in the Charlie Hebdo attacks.
However, a new cartoon featuring the Prophet Muhammad, which appeared on the cover of the French satirical magazine's first issue after the tragedy, was not welcomed in the Arab world. As a result, Charlie Hebdo's newest issue has been banned in Morocco, Algeria, Tunisia, and Turkey.
In response to the publication, Qatar's Al-Arab tweeted a caricature which read: "Journalism is not a crime and I am not Charlie."
كاريكاتير "العرب" @AlArab_Qatar #أنا_لست_شارلي #فرنساpic.twitter.com/yDK1Ugm8MZ

— عبدالله العذبة (@A_AlAthbah) January 14, 2015
Globally, the satirical weekly and the situation surrounding it saw controversy flare up following a new cartoon which shows the Prophet Muhammad shedding a tear and saying that "all is forgiven."
A wave of Muslim protests across the world were launched against such "blasphemous cartoons." Demonstrations took place in Pakistan, Egypt, Amman, Syria, Lebanon, the Philippines, and also in Europe.
In Niger, at least four people were killed in clashes with police outside a French cultural center.
You can share this story on social media: