Pentagon to deploy 400-plus troops to train and equip Syrian opposition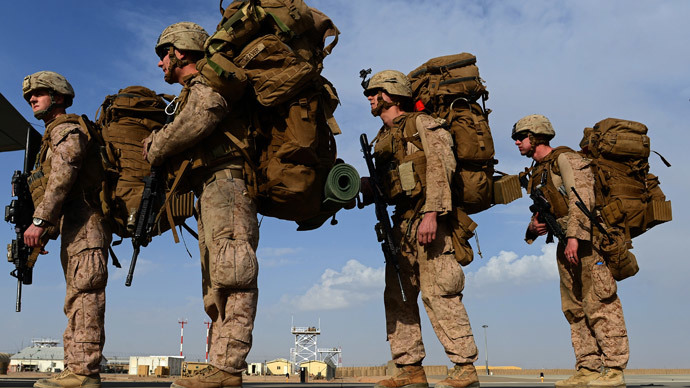 The US military has announced it will send about 400 specialists and hundreds more "enabling forces" to train the rebel Syrian opposition as Washington takes its fight against the Assad government and Islamic State to a new level.
The Pentagon mission, expected to begin as early as March, envisions US specialists training Syrian opposition forces from military bases in Saudi Arabia, Turkey and Qatar, Cmdr. Elissa Smith, a Defense Department spokeswoman, was quoted by the Army Times as saying.
READ MORE:Iraqi govt feels US, allies not doing enough to fight ISIS
In addition to the 400 military specialists, so-called "enabling forces," which are to serve as a security detail, will also accompany the trainers, Smith said.

The US-led coalition, which began its bombing campaign over Syrian territory against the jihadist forces of Islamic State [also known as ISIS, or ISIL] in September 2014, includes Bahrain, Jordan, Qatar, Saudi Arabia and the UAE. The Arab states will be expected to contribute troops to the US operation, which expects to train about 5,400 rebel forces each year for three years, according to Defense One, which first broke the news on the number of US specialists preparing for deployment.

At least four training sites among the coalition countries will be selected to host the US specialists for what is anticipated to be a six- to eight-week rotation, Defense One reported.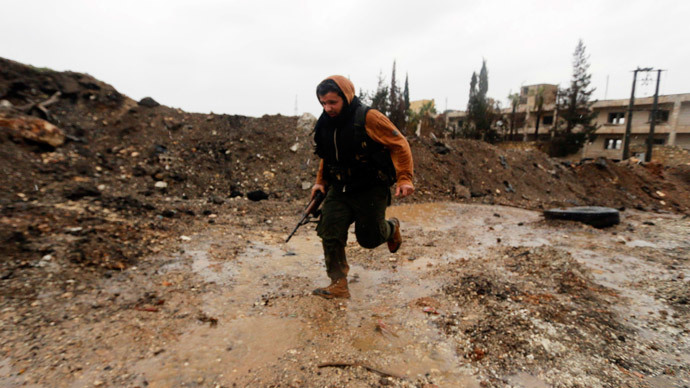 News of the Pentagon's mission to train Syrian rebels, some of whom are reported to be affiliated with terrorist organizations including al-Qaeda, has already attracted criticism from those who say the US military offensive against Islamic State forces in Syria, carried out without the consent of Damascus, is a thinly veiled effort to oust Syrian President Bashar al-Assad from power.

In September 2013, shortly after UK Prime Minister David Cameron failed to secure support in the House of Commons to participate in a US-led military strike against Syria, forces from Islamic State suddenly appeared on the scene, giving the US a pretext for entering Syria.
Reports tell us rebels in Syria are #ISIS. YET, CNN informs us the Pentagon has dispatched 400 to train and equip them. What's a TERRORIST?

— Rachel (@RayEKat) January 16, 2015
According to Gordon Lubold, a senior military writer for Defense One, the Pentagon, despite its powerful satellite surveillance constellation, "has little to no first-hand sense of battlefield dynamics," and this has "blunted the effectiveness of the US airstrike campaign inside Syria."

"With no American combat boots on the ground and limited intelligence, the US is struggling to have an impact there against Islamic State militants or the Assad regime," Lubold wrote.
News of the US training mission for Syrian rebels follows reports that IS forces are "only 20 miles away" from Syria's second biggest city of Aleppo, the UN peace envoy for Syria Staffan de Mistura said Thursday.

"I am just determined to raise the fact that Aleppo cannot be abandoned," De Mistura told a news conference Thursday.

"We are engaged in intense discussions with the government... and the opposition regarding the freeze," he said.
READ MORE:Ohio man arrested for 'plotting' ISIS-inspired attack on Capitol
De Mistura said Aleppo was a "symbolic microcosm of all of Syria," because the city has witnessed the "highest number of displaced people, because it has seen two years of suffering."

The UN official said he hoped "some kind of political solution should take place this year" in Syria, which is in the fourth year of a bloody civil war compounded by the threat of IS on its territory.

"We need to make sure that this does not become like 2014, when we heard similar appeals from all of us, including the UN, and nothing really happened," De Mistura said.

He also expressed optimism over planned Syria peace talks scheduled for later this month in Moscow.

"We are hoping ...that it will be a success in the sense that there will be an opportunity for a genuine dialogue between Syrian representatives but also Syrian authorities," he said.

Assad said the talks in Moscow must focus on the ongoing battle against "terrorism."

"We are going to Russia not to start a dialogue, but to meet with these [opposition] figures and to discuss with them the framework of a dialogue," Assad said in an interview with Czech newspaper Literani Noviny.

According to statistics from the UN, the Syrian conflict has claimed 220,000 lives, placed 12 million people in severe need, left 7.6 million internally displaced, and made 3.3 million people refugees.
You can share this story on social media: