​Lithuania prints 'Russian invasion' survival manual
As NATO increases its presence in the Baltic region amid worries of "Russian aggression," Lithuania has published a manual which advises its citizens how to survive a war on its soil.
"Keep a sound mind, don't panic and don't lose clear thinking," the manual advises. "Gunshots just outside your window are not the end of the world."
Lithuanian Defense Minister Juozas Olekas unveiled the 100-page public information pamphlet last Tuesday at a press conference in Vilnius. The book, "How to act in extreme situations or instances of war" aims to educate the country's citizens on what to do in the case of an invasion.
The manual instructs Lithuanians how to "act during the organization of civil resistance, but also how to act under battlefield conditions," in addition to containing information on governmental changes following a declaration of war and procedures for evacuating a building, according to Olekas.
The book suggests demonstrations and strikes or "at least doing your job worse than usual" as means of resisting foreign occupation. It also advises citizens to use social media to organize resistance and promotes staging cyber-attacks against the enemy.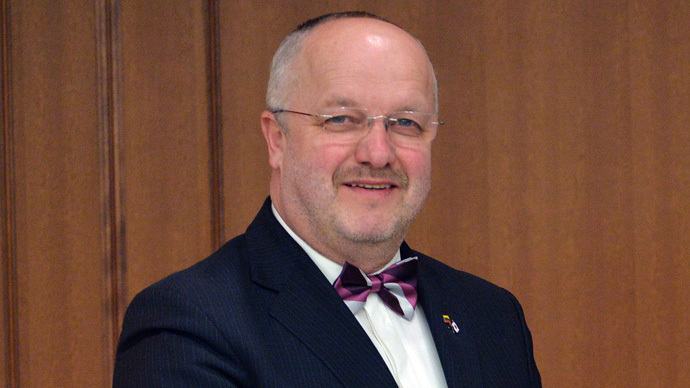 Olekas said the project, a collaboration between the Defense Ministry and Lithuania's Fire Brigade was prompted by "Russia's recurring aggression against its neighbors – presently in Ukraine." Copies of the pamphlet are to be distributed to libraries, secondary schools and non-governmental organizations, while an online version will be available for download from the Defense Ministry's website, Olekas said.
The Lithuanian government is also considering requiring all future buildings to include a bomb shelter.
Lithuania's Russian minority is around 6 percent according to the country's last census in 2011, unlike the two other Baltic enclaves, Estonia and Latvia where Russian speakers account for approximately one-quarter of the population.
Recently, President Dalia Grybauskaite, an outspoken critic of Russia, has moved to restrict the broadcast of Russian state channels in Lithuania.
NATO's General Philip Breedlove announced this week that the alliance was looking to beef up its operations in the Baltic region.
"There will be several adaptations of our exercise program. The first series of changes will not be an increase in number but they will be to group them together … to better prepare our forces and to allow nations to work together as a NATO force, but we are looking at increasing some exercises," he said Tuesday.
Meanwhile, Ruptly news agency on Thursday captured footage of a train loaded with various American military vehicles rolling through Klaipeda, a coastal town in western Lithuania.
In November, during the Iron Sword military drill, 2,500 servicemen from nine NATO countries staged a two-week training operation in Lithuania. Iron Sword was originally planned as a purely Lithuanian endeavor but was expanded in response to the ongoing crisis in eastern Ukraine.
You can share this story on social media: