French authorities accused of double standards over hate speech crackdown
The arrest of a famous comedian and 54 more people for hate speech and pro-terror comments in the wake of the Charlie Hedbo attacks have sparked a fierce debate in France over whether the authorities are guilty of double standards on freedom of speech.
At the center of the debate is controversial comedian Dieudonne M'bala M'bala, known by his stage name Dieudonne, who was arrested after posting "I feel like Charlie Coulibaly" on Facebook, putting together the name of the attacked satirical weekly Charlie Hebdo and the terrorist who is accused of killing four people at a Jewish supermarket in Paris.

"Racism, anti-Semitism, historical revisionism, and condoning terrorism are not opinions, they are crimes," French Prime Minister Manuel Valls said, condemning Dieudonne's remark and vowing a crackdown on "speech that kills."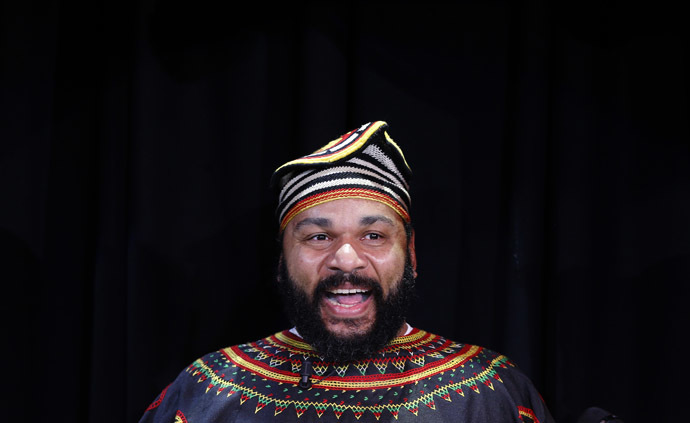 The crackdown has 54 people, four minors among them, convicted for hate speech and inciting terror under special measures for immediate sentencing, introduced in the wake of the Charlie Hebdo attacks.

Inciting terrorism could mean a 5-year prison term in France, while the same offence committed online adds an extra two years to the sentence.

Dieudonne is set to face trial in February. Meanwhile a massive online campaign in his support is gearing up. The main message of those urging an end to his persecution is that it's double standards to praise Charlie Hebdo's activity, seen as provocative by many Muslims, and at the same time ban Dieudonne for his remarks.
Tweets condemning French authorities of violating freedom of speech have been accompanied by a #JeSuisDieudonné hashtag.
So France arrests Dieudonné 4 offending 70M French but praised publication of Hebdo even if offends 1.6B Muslims.

— Maher Arar (@ArarMaher) January 14, 2015
" Freedom of speech in France seems to only be a right for those who want to speak out against Islam. #JeSuisDieudonne" @enrihannaaa

— Moysekou™ (@Moysekou) January 15, 2015
A Facebook page in support of the controversial comedian features more than 900,000 "Likes."
The comedian has already faced a number of charges of racism and anti-Semitism. He has defended his comments, using pretty similar free speech arguments to those used by Charlie Hebdo cartoonists.

"You are looking for a pretext to forbid me," he wrote in an open letter to French Interior Minister Bernard Cazeneuve. "You consider me like Amedy Coulibaly, when I am not any different from Charlie."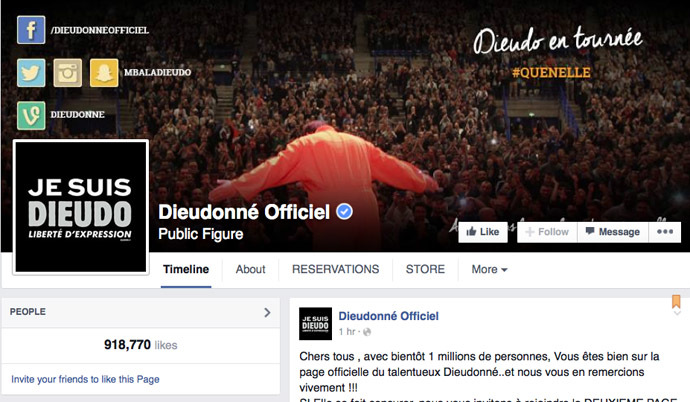 "If the French are demanding freedom of expression and free speech, than this comedian should have those rights as well and it is these double standards in the West," Yvonne Ridley, of the European Muslims League, told RT.
Many Muslims have expressed their disapproval of the latest edition of Charlie Hebdo with the image of Prophet Muhammad on the cover.

READ MORE: 'Act of war': New Charlie Hebdo edition triggers Muslims' anger, threats
Human rights activists have warned of the cartoons' negative impact on the Muslim community.

"This publication of the cartoons is seen as a provocation by many people," Raza Nadim, of the UK-based Muslim Public Affairs Committee, told RT. "Actually many people have expressed that they find them to be deeply racist, deeply Islamophobic and actually just hurting an already quite oppressed community and minority."

A lawyer for one of those 54 convicted for pro-terrorism comments, Michael Wacquez, has warned that French authorities could face a massive problem if they tried to go after everyone who has expressed a pro-Islamist position on Charlie Hebdo.

"There are 40,000 tweets out there expressing support for the terrorists," Wacquez told AFP. "What are we going to do with all these people? Are the French prisons ready to take in 40,000 people because they made a bad joke on Twitter?"
Bc the moment we allow the gov to attack those with unpopular political opinions, we undermine all our rights as well #JeSuisDieudonne

— We are Baga (@obaa_boni) January 15, 2015
French comedian Dieudonné's arrest for being an "apologist for terrorism" is absurd. So much for #JeSuisCharlie. How about #JeSuisDieudonne?

— Gavin Davis (@gavdavis) January 15, 2015

You can share this story on social media: