Flight at Rome Fiumicino airport evacuated over bomb threat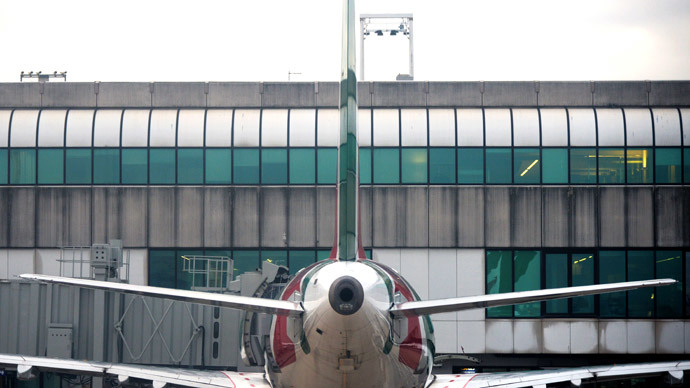 The passengers of a Niki flight to Vienna from Fiumicino airport in Rome have been disembarked after a man told the pilot he had a bomb in his luggage. The plane was isolated for security checks which found no explosive devices on board.
According Italian media a passenger on FlyNiki flight to Vienna told crew there is a bomb in cargo. Aircraft isolated pic.twitter.com/6dK1Wq18hZ

— Flightradar24 (@flightradar24) January 14, 2015
Over 80 passengers of a Niki Airbus A320 to Vienna were evacuated over a suspected bomb threat after a man of Slovenian nationality reportedly told the captain that he boarded the plane with a bomb in his luggage, local media report.
#allarmebomba#fiumicino abbiamo percorso alcuni metri ma ancora fermi pic.twitter.com/K9UfxkhVjs

— Nino Carella (@ninocarella) January 14, 2015
La Repubblica reports that one of the passengers noticed a pedometer in the hands of his seatmate and asked what it was. The suspect reportedly answered that was a "remote control to detonate a bomb," causing panic. The passengers warned the pilot and the suspect again confirmed he had an explosive device in his bag.
The flight commander immediately warned the control tower and parked the plane in an isolated area at the end of runway, ANSA news agency reports.
The suspect was taken by police for questioning while transport safety units and a fire brigade surrounded the aircraft. A security check that was carried out according to standard protocol has found no explosive devices on board, according to AGI news agency.
Rome Fiumicino was temporarily locked down, with only one of its three runways operating for outbound flights and causing major delays. The inbound flights were reportedly being diverted to Ciampino International Airport.
Big delays at Rome Fiumicino Airport after earlier bomb threat. Avarage departure delay is now 65 minutes. pic.twitter.com/6MChT1Vacn

— Flightradar24 (@flightradar24) January 14, 2015
#HG8471 is returning to gate and second runway is open at Fiumicino Airport. There was no bomb just a crazy passenger pic.twitter.com/A0g4lnjBjy

— Flightradar24 (@flightradar24) January 14, 2015
You can share this story on social media: