ISIS takes credit for abduction of 21 Christians in Libya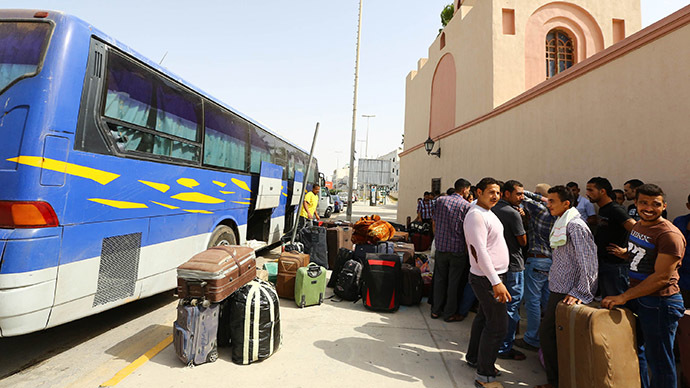 An Islamic State affiliate in Libya has claimed responsibility for the kidnapping of 21 Coptic Christian workers, posting pictures of the captives to online jihadi forums.
"Soldiers of the Islamic State captured 21 Christian crusaders," the jihadists wrote in a statement on Monday. The comment was released along with three pictures featuring several men, AP reported.
No demands for the men's release have been made. The statement did not specify the nationalities of the hostages; it only stated that they were abducted in "various areas of Tripoli province."
But Badr Abdel Atti, a spokesperson for Egypt's Foreign Ministry, said that 20 Egyptian citizens were abducted in recent weeks in two separate instances in Libya, the Guardian reported.
The paper cited a Libyan government source as saying that the Islamist group Ansar al-Sharia kidnapped the workers over the course of several days in Sirte, a coastal city in Libya which is under the control of Islamic militants.
Thirteen of the men were reportedly kidnapped by masked gunmen who entered the rooms of a residence for Egyptian Christian workers on January 3, while seven others were taken earlier.
The identities of the men pictured have been confirmed by Egyptian priest Abu Maker, who comes from the men's hometown, Samalout in southern Egypt. In addition, Coptic activist Magdi Malak said he met with the families of the men, and that they also confirmed the authenticity of the pictures.
Thousands of Egyptians come to Libya for work, primarily in the construction sector. Scores of Egyptian Christians have been targeted by militants amidst the instability plaguing Libya after the 2011 ouster and killing of former leader Muammar Gaddafi.
Last February, the bodies of seven Coptic Christians were found near Benghazi, which is partially held by Islamist militias. In March 2013, dozens of Egyptian Christians – accused by extremists of proselytizing – were tortured in a Benghazi detention center.
You can share this story on social media: