Saudi cleric proclaims snowman-building 'anti-Islamic' (PHOTOS, VIDEO)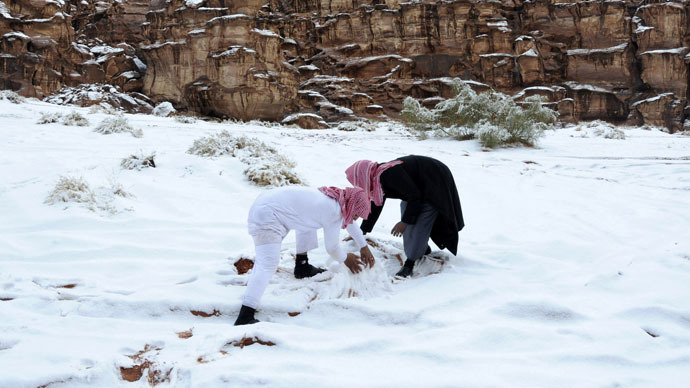 People in Saudi Arabia - the second hottest country in the world - have recently had a chance for some fun, building snowmen following freak snowstorms that have hit the country. However, the hilarity has been proclaimed sinful by a Saudi scholar.
"It is not permitted to make a statue out of snow, even by way of play and fun," a prominent Saudi Arabian cleric Sheikh Mohammed Saleh al-Munajjid wrote on a religious website, as quoted by Reuters.
سعودي يتزوج الثلج ،، الشعب بدأ يفصل شيئاً فشيئاً #snow#wedding in #saudi arabia pic.twitter.com/g2cNzTkGsf

— يوسف عبدالله الوابلي (@YOUSEFALWABLY) December 16, 2013
The religious scholar has issued a ruling forbidding the building of snowmen, and snow animals for being anti-Islamic.
Deferring to other Muslim scholars, Sheikh Munajjid argued the action is considered sinful under Sunni Islam for creating an image of a human being.
#snowman رجل الثلج السعودي متلطم

A photo posted by Khaled (@khaled_almutlq) on Jan 12, 2015 at 3:26am PST
People can "make whatever they want which does not have a soul," he added in his ruling, suggesting they build snow trees, fruit, ships or buildings.
إبداعات أبناء تبوك والشمال في فن النحت بالثلج تجلّت خلال أيام البياض الفائتة وهذه أنثى من ثلج تبدو فاتنة بالبياض pic.twitter.com/SE1mjlZUDF

— عبدالرحمن العكيمي (@ALOKEMEabdualrh) January 12, 2015
But - allegedly breaking the strict religious rules - Saudis in the country's northern areas, notably in the Tabuk region, which have been hit by unusual weather this month, have braved the cold to build their interpretations of Western snowmen.

صباح الخير Good morning #snow#tabuk#SaudiArabia alhumedlillah pic.twitter.com/YcckhqcBkQ

— عرّاب الصحراء (@saud444111) January 11, 2015
While some constructed snow camels as a tribute to the local culture, others adorned their snowmen with traditional headscarves.
#Snow_Man and #Snow_Woman in Saudi Arabia Getting Married pic.twitter.com/w816M6SaKM

— Ahmad Althekair (@Aalthekair) January 12, 2015
Although there has been no government comment to the snowmen ban so far, a heated debate - mainly among nationals in the Gulf States - has broken out on social media, the Gulf News reported.
#Snow_Man in Saudi Arabia Drinking #Coffeepic.twitter.com/7fkvQxA7Vy

— Ahmad Althekair (@Aalthekair) January 10, 2015
"It has no value in our traditions, and those who are fascinated by the West should emulate their inventions and sciences, not their culture," the daily quoted an anti-snowmen blogger as saying.
مساكم الله بالخييير شيخ المثاليج :D ما تقولوا ما نزل ثلج فالخليج ❄ ❄ ❄ #رجل_ثلج #ثلج #الخليج_العربي #شامخ #السعودية #عمان #الإمارات #قطر #البحرين #الكويت #uae #saudi #q8 #khaleej #snow #snowman #sun #carrot

A photo posted by Nour Abdulsattar Arnous (@nourarnous) on Jan 12, 2015 at 5:47am PST
Another social media user argued the snow was there "for fleeting days, maybe even hours," and blamed the scholar for stealing all the joy and fun it brings.
The storm swept across the Middle East last week, hitting a number of countries where snow is rarely seen even in winter. While a state of emergency has been declared in some regions, including Gaza and the West Bank, people in parts of Saudi Arabia have been enjoying the rare occurrence in its usually sand-covered desert landscape.
You can share this story on social media: