US to boost European contingent with 3,000 troops, 150 tanks in 2015 – report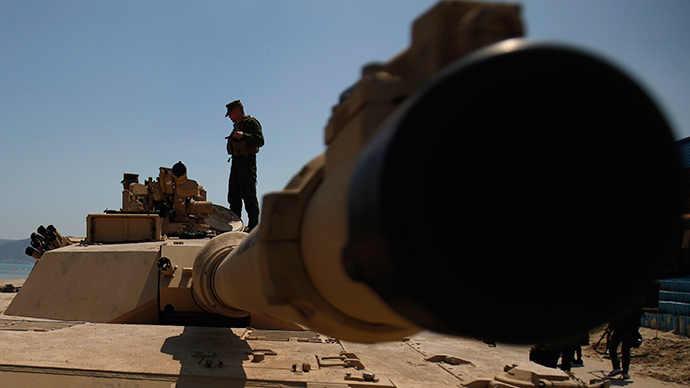 The US plans to send 3,000 more troops and over 150 tanks to Europe by the end of ear to bolster its presence on the region, a top commander announced.
The US, which already has around 67,000 troops in Europe, expects over 3,000 soldiers to arrive on the continent between March and the fall, Lt. Gen Frederick Ben Hodges, Commander of US Army Europe, told The Hill.
"I anticipate that almost the entire 1st Brigade of 3rd Division will come over in March, so you're looking at probably over 3,000 soldiers that would be part of a brigade combat team like that," Hodges said.
They'll be followed by more than 150 tanks and other military vehicles that will be deployed in Europe "by the end of 2015," the commander said.
"We will have an entire heavy brigade combat team of equipment – that's enough tanks and Bradley fighting vehicles, self-propelled Howitzers, engineer vehicles, on and on, for three battalions and a reconnaissance squadron plus all the enablers," he stressed.
It's not yet decided where the new tanks are to be stationed, with Germany being among the most probable locations.
Hodges said that the US was not planning to deploy any additional permanent troops to Europe with the equipment as it will be serviced by personnel rotating through the continent.
For now two brigades remain in Europe — the 173rd Airborne Brigade bases in Vicenza, Italy, and the 2nd Stryker Brigade in German Vilseck.
"Surely I would love to have more forces that were here, but in terms of what we need, and what we can afford as an Army, two is about the right number here," Hodges said.
The move is part of Pentagon's plan to maintain its presence in the region, but at the same time save on costs of permanently basing forces in Europe.
READ MORE: Pentagon cutting expenses, consolidating bases in Europe
The European Command will receive relevant recommendations from the Army by the end of January, Hodges said.
More American troops and vehicles are available for service in Europe due to the US withdrawal from Afghanistan.
The US build-up of forces in Europe is aimed reassuring Washington's allies on the continent, who are alarmed by the Ukrainian conflict, which the West claims was masterminded in Russia – an accusation, which was never backed by any significant proof and repeatedly denied by Moscow.
There were no American tanks in Europe in early 2014, but the US began redeploying armored fighting vehicles to the continent after Russia reunited with the republic of Crimea last March.
You can share this story on social media: