Armed man takes several hostages in Paris store, police operation underway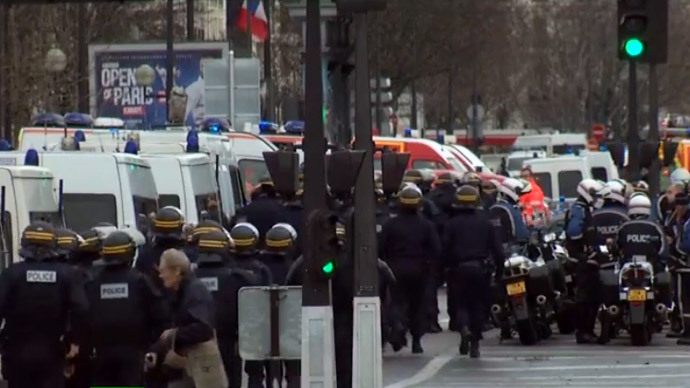 An armed man took at least five hostages in a kosher grocery store in eastern Paris, French media said. A police operation is underway in the area with traffic partially blocked and near-by schools evacuated.
UPDATE:Four killed in Paris store hostage crisis, Charlie Hebdo suspects also dead
Two people have been killed, French media reported. France's Ministry of the Interior formally denied reports that two people died in the kosher supermarket attack, France 24 said.
Police have completely locked down the area at Porte de Vincennes, RTL radio said.
"Panic at Porte de Vincennes. Policemen in bulletproof vests are evacuating everyone. The operation is underway," tweeted Raquel Garrido from France's Left Party.
The gunman has threatened to kill the hostages if law enforcers attempt to storm the store, police said as cited by AP.
The hostage taker in the store is demanding freedom for the Kouachi brothers, RTL reports.
The shooter was armed with a Kalashnikov, reported iTele.
Escortés par les gendarmes, les enfants ont été évacués de l'école Henry Dunant trois par trois à Dammartin-en-Goelle pic.twitter.com/r0ygDn8diT

— Édouard de Mareschal (@edemareschal) January 9, 2015
Face à #hypercasher à #saintmandepic.twitter.com/iYYr3NxanO

— david_dlr (@daviddlr) January 9, 2015
France's Interior Minister Bernard Cazeneuve has arrived at the shooting scene at Porte de Vincennes, Le Figaro reported, as well as Paris mayor.
Police forces take position by the kosher grocery store in Saint-Mande, near Porte de Vincennes in Paris. #AFPpic.twitter.com/ANkBZtMTSJ

— AFP Photo Department (@AFPphoto) January 9, 2015
Nombreux policiers lourdement armés quadrillent le quartier de la porte de #Vincennespic.twitter.com/NTbyASMHaT

— Bastien Hugues (@bastienhugues) January 9, 2015
READ MORE: Killing of policewoman in Paris linked to Charlie Hebdo attack – reports
According to France Info, citing numerous police sources, the shooter matches the description of the person who killed the policewoman.
Breaking #photos Man armed w/ a Kalashnikov is in a Kosher deli in porte de Vincennes, Paris @LePoint#CharlieHebdopic.twitter.com/hlgvtM6Y0N

— Silver Surfer (@RobPulseNews) January 9, 2015
"This man of African origin corresponds to the description of the Montrouge [commune] killer," said the source.
READ MORE: Killing of policewoman in Paris linked to Charlie Hebdo attack – reports
The suspects involved in the Montrouge shooting of a policewoman on Thursday have been identified as Hayat Boumeddiene,26, and Amedy Coulibaly, 32. One or both of them are also suspected of having taken hostages in a grocery store in Paris on Friday.
Urgent. Appel à témoins. pic.twitter.com/NXSs78uiNM

— Apolline De Malherbe (@apollineWakeUp) January 9, 2015
Porte de Vincennes. Hundreds of police now surrounding the kosher food shop pic.twitter.com/yYHu4BPImr

— Ruadhán Mac Cormaic (@RuadhanIT) January 9, 2015
Traffic is partially blocked near the area, RATP (Régie Autonome des Transports Parisiens), a state-owned public transport operator, said on Twitter.
13:28, le trafic est interrompu entre PORTE DE CHARENTON et PORTE DE VINCENNES (mesure de sécurité) #RATP#T3a

— T3a RATP (@T3a_RATP) January 9, 2015
Police have started evacuating local residents in the Saint-Mandé commune near Porte de Vincennes.
Special forces evacuate local residents in Saint-Mande, near Porte de Vincennes in Paris. Photo @MartinBureau1#AFPpic.twitter.com/ngaAVAtwFw

— Stéphane Arnaud (@StephaneArnaud_) January 9, 2015
Police officers have reported a number of wounded at the scene.
Les élèves des lycées Hélène Boucher et Maurice Ravel calfeutrés à l'intérieur. #vincennespic.twitter.com/mfmnxYeT2F

— Tahar Hani (@taharhani) January 9, 2015
Schools near Porte de Vincennes are now under lockdown, AFP cited French officials.
The Academie de Paris has reported that parents can collect their children from all Paris schools except those in the security perimeter in the 11th and 12th districts. The schools there must be kept closed until a special order is given to reopen them.
#AlerteAttentat liste des écoles confinées sur #Paris Voir la pièce jointe de ce tweet. pic.twitter.com/ee5ikeIDoQ

— Préfecture de police (@prefpolice) January 9, 2015
President François Hollande will hold a crisis meeting at 15:15 local time at the Elysee Palace along with the country's PM Manuel Valls and Interior Minister Bernard Cazeneuve.
Prise d'otages à Vincennes : une réunion de crise est en cours en ce moment autour du président @fhollandepic.twitter.com/WEU3xTjCmf

— Élysée (@Elysee) January 9, 2015
Affollement Porte de Vincennes. Policiers en pare balle évacuent tout le monde. Opération en cours.

— Raquel Garrido (@RaquelGarridoPG) January 9, 2015
You can share this story on social media: