AirAsia jet tail found in Java Sea, first images released (PHOTO)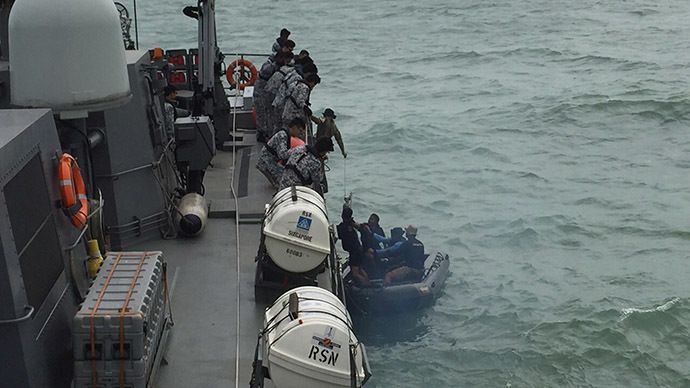 The tail of the AirAsia aircraft with the black box and flight recorders has been located underwater in the Java Sea, said the QZ8501 flight search and rescue chief in Indonesia on Wednesday, according to Reuters.
"We have found the tail, that has been our main target today," said agency chief Fransiskus Bambang Soelistyo. "The tail part has been found and confirmed at a position in our second priority sector."
Pictures released from the tail part of Flight #QZ8501 found by Indonesia searchers in the Java sea. pic.twitter.com/77Ifrleuzh

— JL News Alert (@JLNewsAlert) January 7, 2015
The finding could give the investigation a clue to solve the mystery of what caused the crash on December 28.
During a break in the bad weather hindering the search efforts, at least two divers plunged into the rough seas early on Wednesday in the area, where the US Navy had detected two objects, supposedly chunks of the fuselage, at a depth of 28 meters near the Karimata Strait, AP reported.
"We'll start to identify the wreckage, which appears to be part of the jet's body, as quickly as possible," Indonesian search and rescue operation coordinator Tatang Zainudin told reporters.
An international team of planes, ships and personnel are continuing their efforts to search for AirAsia QZ8501.
On Tuesday, Soelistyo said teams were "adding to and expanding the priority search area."
No survivors of flight QZ8501 have been found. Out of 41 bodies recovered, only 16 have been identified, as of Wednesday.
Indonesian officials confirm another body located by tug boat. Currently being recovered. Total now 41 #QZ8501

— Jackson Board (@JackBoard) January 7, 2015
It's the 11th day of the search for the wreckage and victims of an AirAsia flight with 162 people on board that lost contact with air traffic control during a flight between Indonesia and Singapore.
Anton Castilani, head of the country's disaster identification victim unit, said that after two weeks most corpses will sink, and be difficult to trace.
The flight was carrying 137 adult passengers, 17 children and one baby, along with two pilots and five crew, most of them Indonesians.
On Wednesday, AirAsia confirmed it would offer compensation to family members of victims, the Wall Street Journal reported.
The company said it's talking with families individually to show its "good intention," first addressing the families of those who have already been identified.
Some families had already been offered initial compensation of about $24,000 for each victim, several family members told the Wall Street Journal on Monday.
On Tuesday, the airline insurers were set to pay out compensation of 1.25 billion rupiah ($98,000) for each of the 155 passengers, and an additional 315 million rupiah ($24,700) to 750 million rupiah ($59,000) for the 25 passengers who had flight insurance.
You can share this story on social media: