Orthodox Christians prepare to celebrate Xmas as bitter cold strikes Russia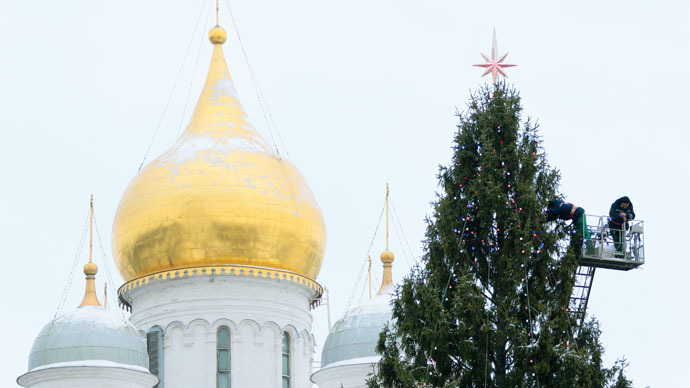 Teeth-chattering weather descended on Russia on Christmas Eve, with temperatures falling to -25C in Moscow and -35C in the remote region of Yakutia, as hundreds of thousands of believers are expected to attend Midnight Mass in the capital and elsewhere.
Believers in Jerusalem are also getting ready for a rare "white Christmas," with snow predicted to fall on Wednesday, and temperatures going down to +3C.
Those attending Midnight Mass in Moscow's Christ the Savior Cathedral, conducted by Patriarch Kirill, will have to wrap up extra warm this Christmas.
A photo posted by Nastya (@nastyacookie) on Jan 1, 2015 at 8:21am PST
January 7 is Christmas Day for Russian Christians, the Jerusalem Orthodox Church, the Serbian Orthodox Church, the Georgian Orthodox Church, the Ukrainian Greek Catholic Church, as well as for some Protestants who use the Julian calendar. According to the Julian calendar, created under the reign of Julius Caesar in 45 BC, the holidays come thirteen days after the Christmas festivities in the Catholic Church.
#Рождество #Христово #Православие #праздник #вера #церковь #южносахалинск #кафедральныйсобор #orthodoxy #faith #christmas #russia #night #liturgy

A photo posted by Ivan Travkin (@itravkin) on Jan 1, 2015 at 8:22am PST
Although Russia is a secular state, nearly three-quarters of Russians describe themselves as Orthodox believers. Up to 230,000 believers attended overnight celebrations in the 326 churches and cathedrals last year in the Russian capital alone.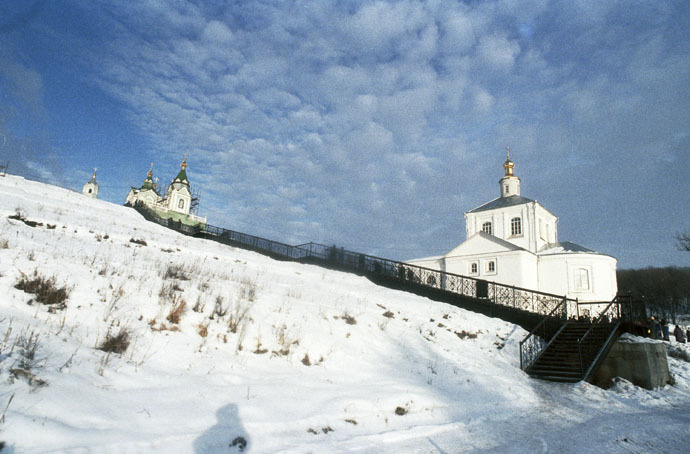 The head of the Russian Orthodox Church said in his Christmas address that during these "holy days of Christmas" the prayers of the whole Church, as well as his special prayer, is for "peace on Ukrainian soil."
"Regardless of the place of residence of its children, their political views or preferences, the Russian Orthodox Church performs an important mission that Christ himself imposed (see. Matt. 5: 9). It has always done and continues doing everything possible to reconcile people and help them overcome the consequences of feud," Patriarch Kirill stated.
С Рождеством Христовым! • • • #Рождество #Христово #Православие #праздник #вера #церковь #южносахалинск #кафедральныйсобор #orthodoxy #faith #christmas #russia #night #liturgy

A photo posted by Художник от слова "худо" :D (@mitrav_art) on Jan 1, 2015 at 8:22am PST
Christmas in the Orthodox Church is traditionally preceded by forty days of praying and fasting, during which the faithful should refrain from eating meat and deny themselves any form of entertainment. By learning to temper the body, one attains spiritual perfection, believers hope.
Вот такая сказка #баня #турбаза #рождество #сказка #зима #снег #ледянка #друзья #салют #сауна #счастье #сновымгодом #новыйгод #дятьково #россия #ручеек #bryansk #russia #happy

A photo posted by kseniajacksa (@kseniajacksa) on Jan 1, 2015 at 8:21am PST
The Nativity Fast ends on January 6, after the first star is seen in the evening sky, which symbolizes the Star of Bethlehem at the time of Jesus' birth. According to the Gospel of Matthew, after seeing the star, wise men from the east came to worship Christ and brought gifts to him.
#рождество #россия #сочи #каникулы

A photo posted by @egory4 on Jan 1, 2015 at 8:23am PST
Christmas Eve begins with a special feast - "Holy Night supper" - meant to end the period of fast. To symbolize the twelve apostles, the meal features twelve meat and dairy-free dishes. On Christmas Day, a church service known as "The Feast of the Nativity" is held, followed by a festive meal, which finally breaks the strict fast.
Tune in at RT for a LIVE broadcast of the Christmas Mass from Christ the Savior Cathedral, starting at 2000 GMT January 6
A photo posted by Toxa (@toxa_belov) on Jan 1, 2015 at 8:21am PST
#рождество#наулице#красота#вот#и#krd#дождался#снега#всем#прекрасного#вечера

A photo posted by Ксения (@kseniya_qr) on Jan 1, 2015 at 8:21am PST
You can share this story on social media: