Stunning skies of bright greens: Aurora borealis illuminates Russia's north (PHOTOS, VIDEOS)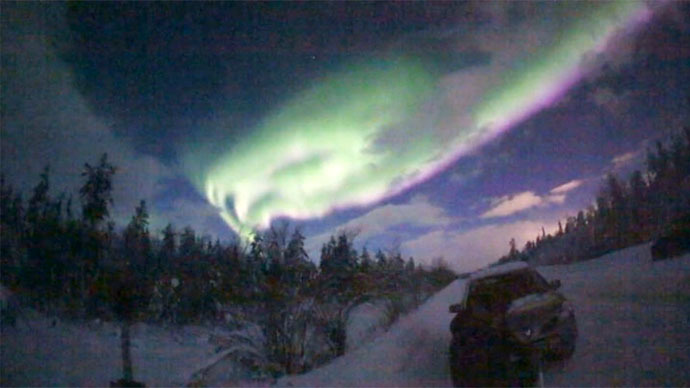 Northern Lights of rare intensity were observed in several regions of Russia's north at the start of the year. Clear frosty air with cloudless skies and no snow storms let both locals and tourists capture the stunning natural light show.
The natural phenomenon was observed in northern Russia's polar regions, in Karelia, Murmansk and Arkhangelsk and were even reportedly seen near St. Petersburg.
Although the aurora borealis is not a rare occurrence in this part of the world, the recent glow was particularly spectacular, as the skies were clear of clouds and it didn't snow.
A photographer from the Murmansk region, Valentin Zhiganov, spent several hours in the freezing cold, braving -20 degrees C (-4 F) temperature to film the glowing skies.
Astronomers say the natural phenomenon has become more frequent over the past decade, reaching its highest level for 14 years in 2014. In December, people in the northern areas of the Murmansk region observed the lights sometimes up to five times a week.
Полярное сияние. #Россия, Мурманская область, 26 декабря 2014 г. pic.twitter.com/jnuoQS6Ntz

— Денис Карлов (@Denis_Karlov) January 2, 2015
Experts say the phenomenon poses no danger to people. Caused by charged particles colliding with atoms high in the Earth's atmosphere, it is believed the intensity of auroras can be caused by high-speed winds containing solar particles. But unlike geomagnetic storms of the same nature, the glowing skies have no harmful effect.
READ MORE: NASA detects enormous 'coronal hole' on Sun's South Pole (PHOTO)
Северное сияние в Архангельске, Россия pic.twitter.com/0C8s97g0AY

— Коффбой (@koffboy) January 3, 2015
"[In 2014] auroras have appeared more often than over previous years, as a natural result of maximum solar activity, with the maximum frequency of solar bursts having been reached," Stanislav Korotky, head of scientific projects at an observatory in the Moscow region told Interfax. Such activity peaks happen every 10-12 years, scientists say.
Теперь я точно знаю откуда берется северное сияние) #архангельск #север #сияние #Россия #ночь #небо #природа #ЛЭП #north #aurora #ru #Russia #night #sky #nature #canon #photo

A photo posted by @dimasarh on Jan 1, 2015 at 5:05am PST
A photo posted by Аня (@edinopogek) on Jan 1, 2015 at 12:41pm PST
#северное #полярное #сияние #лапландия - 2300км в одну сторону за рулем стоили того. Пожалуй это одно из самых необычных явлений в природе

A photo posted by Nikita Shekhov (@samiga) on Jan 1, 2015 at 5:23pm PST
#сияние #красота#хобби#фото#ночь#огни#пост

A photo posted by Sweet Love (@sweetlove19903105) on Jan 1, 2015 at 3:45am PST
#бессонная#ночь #сияние#север#холод#хобби#фото#

A photo posted by Sweet Love (@sweetlove19903105) on Jan 1, 2015 at 3:59am PST
While Northern Lights are a popular tourist attraction in Finland, people in Russia's Murmansk region hope the glowing skies will lure more people to their beautiful land. Although it's dark during most part of the winter, auroras can certainly lighten up the mood of both locals and visitors.
You can share this story on social media: