100mn stars in 1.5bn pixels: Hubble takes 'sharpest ever' image of Andromeda galaxy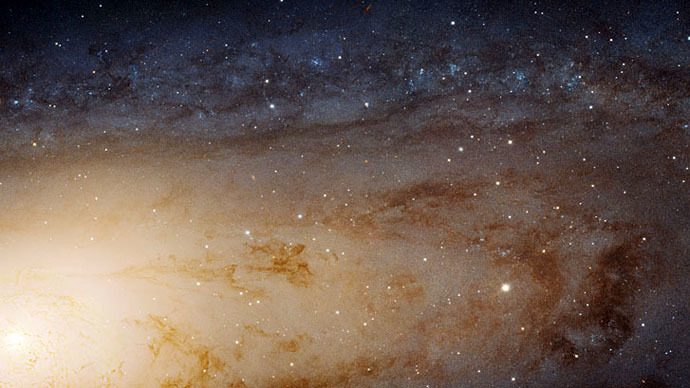 Hubble has captured a mind-blowing view of roughly a third of the Andromeda galaxy with thousands of star clusters – and it is the biggest image ever released by the space telescope. To display the whole panorama you would need 600 HD television screens.
NASA and the European Space Agency (ESA) jointly released the sharpest and biggest image ever of the Andromeda galaxy, taken by the Hubble Space Telescope on Monday.
#Hubble captures sweeping view of Andromeda galaxy and over 100 million stars. http://t.co/AWfGGjyqxp#aas225pic.twitter.com/qJp45qHfF5

— HubbleTelescope (@HubbleTelescope) January 5, 2015
The amazing 1.5 billion pixels picture reveals "over 100 million stars and thousands of star clusters embedded in a section of the galaxy's pancake-shaped disc stretching across over 40,000 light-years," according to the press release.
READ MORE: Galaxies spiral into each other, create spectacular light show (VIDEO, PHOTOS)
Photographed in red and blue filters, the composite image from 7,398 exposures reveals the Andromeda galaxy in its natural visible color. It was obtained from viewing the galaxy in near-ultraviolet, visible, and near-infrared wavelengths, as reported by Cosmos Magazine.
#Hubble25 is at #aas225! Are you? pic.twitter.com/2PWaekcrXg

— Hubble (@NASA_Hubble) January 5, 2015
The stunning image is the product of the Advanced Camera for Surveys and Wide Field Camera 3 aboard Hubble, which is managed by NASA and the European Space Agency.
READ MORE: 'Revolutionary' planet formation around star captured by astronomers (PHOTOS, VIDEO)
The Andromeda Galaxy, also known as Messier 31, or simply M31, is a large spiral galaxy with more than one trillion stars. Probably the most massive galaxy in the Milky Way neighborhood, it is located some 2.5 million light years from Earth.
The scientific significance of this extraordinary picture lies in the possibility of interpreting light from a variety of galaxies located further from us, yet with a structure similar to Andromeda's – the most popular form among over 100 billion known galaxies.
You can share this story on social media: