Canada blackout: Heavy snowfall leaves over 150,000 without electricity in Quebec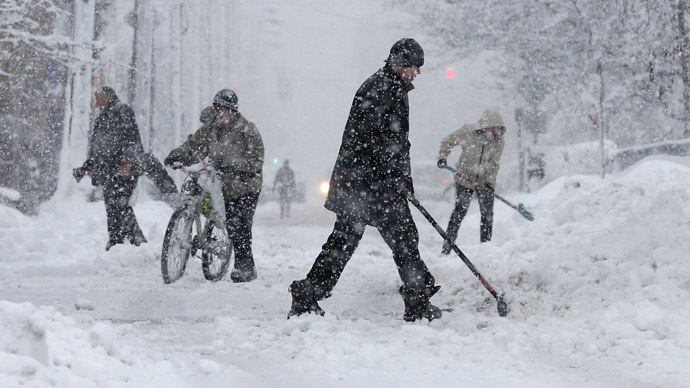 More than 150,000 Canadians are left without electricity in Quebec due to the snowfall, which caused trees branches to fall, damaging power cables.
The blackouts began Sunday afternoon across the Montreal region, but conditions deteriorated in the evening, and the outages spread all over southern Quebec.
Montreal has deployed 1K snow removal vehicles / tools. Budget for this weekend's cleanup is around $20M. #cbcmtlpic.twitter.com/fwyI660kkC

— Brigitte Noël (@Brige_Noel) January 4, 2015
"Our crews are presently patrolling to find out where the power outages are and trying to restore the power as soon as possible. It's mainly due to the weather conditions," Hydro-Quebec spokeswoman Elaine Beaulieu told CBC News.
Tree branches are snapping and falling all over the city due to weight of the ice. Photo by @vincentchampagn#weatherpic.twitter.com/BpUVqpCK7B

— CBC Montreal (@CBCMontreal) January 4, 2015
The main cause of the blackouts was tree branches falling due to snow and ice on them – leading to damage to power cables.
Just witnessed this branch snapped right off the tree because of the weight of the ice. #weather#cbcmtlpic.twitter.com/GowksMXcBT

— Tanya Birkbeck (@tanyabirkbeck) January 4, 2015
Quebec suffered heavy snowfall Saturday afternoon, becoming freezing rain Sunday morning.
The wacky #weather has caused power outages across Quebec, including here in Dorval. #cbcmtlpic.twitter.com/jgKNmhz2FR

— Tanya Birkbeck (@tanyabirkbeck) January 4, 2015
There have also been flight cancelations and delays due to the situation.
ice, ice baby #Montrealpic.twitter.com/kP7qz78h3z

— Mike Finnerty (@finnertymike) January 4, 2015
Meanwhile, severe weather raged all over Canada, with British Columbians advised to put off travel. A total of 24 winter storm warnings were issued for the region Sunday. A weather warning for drivers was also issued Sunday evening, and it is expected to extend into Monday.
Most of Canada's prairie provinces and northern Ontario are under extreme cold warnings: southern Saskatchewan, southern Manitoba and northern Ontario are set to fall as low as -40 to -45 degrees Celsius.
You can share this story on social media: