Police arrest 'suicide bomber' after Atocha train station in Madrid evacuated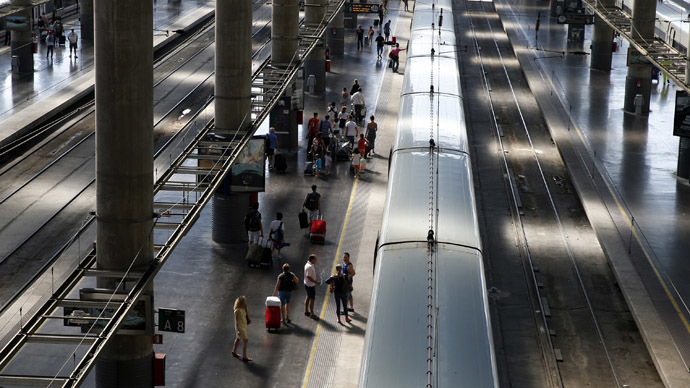 Madrid's Atocha railway station was evacuated after a man said he left his suicide vest on a train, Spanish media reports. The suspect had allegedly threatened to blow himself up before being arrested.
According to Spanish media reports, however, a bomb squad sent to the scene did not find any explosives left by the suspect.
AMPLIACIÓN: Desalojan la estación madrileña de #Atocha por un posible atentado suicida http://t.co/5jiglEFTDTpic.twitter.com/zt0UBuhqrs

— RT en Español (@ActualidadRT) January 2, 2015
The Spanish daily El Mundo reports that the bomb disposal unit only found a bottle of water in the man's backpack. The National Police Corps later confirmed on Twitter that the threat had been a hoax.
The identity of the suspect has yet to be released, though the Interior Ministry said he is of Moroccan origin and is undergoing psychiatric treatment, the daily El Pias reports.
Llegando a Atocha desde vallecas... Gente en las vías @Renfepic.twitter.com/kgMpOC7nSO

— Javi Carmona (@JaviKarmona) January 2, 2015
Witnesses said the man left the backpack in a carriage before proceeding to warn passengers he had a bomb that would go off at any minute. The passengers pulled the emergency alarm in response. Witnesses later heard announcements over the station's loudspeaker system that all trains in and out of the station had been halted due to the bomb threat. Anti-terror protocols were immediately initiated.
Atocha is the biggest train station in Madrid and the primary railway station for commuter trains for the city.
On 11 March 2004, three bombs exploded at Atocha as part of a coordinated attack against commuter trains and stations in Madrid that killed 91 people and injured 1,800.
You can share this story on social media: