Saudi national airline may introduce gender segregation on its flights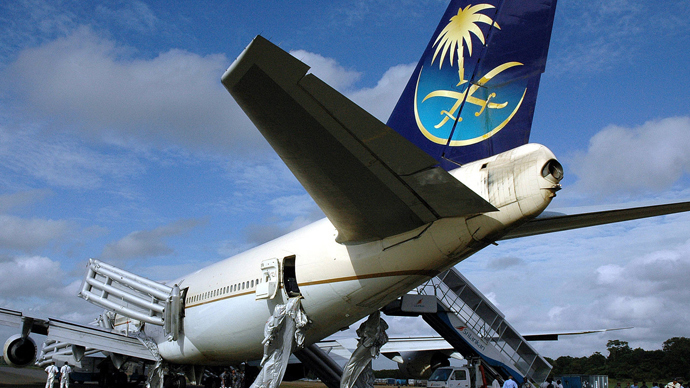 Saudi Arabia's national airline carrier is planning to introduce gender segregation aboard its flights following complaints from passengers who refused to have random males seated next to their wives, the Kingdom's media report.
Airline company Saudia will order its staff to keep men and women separated onboard, unless they are close relatives, the Emirates247 news website reported.
"There are solutions to this problem…we will soon enforce rules that will satisfy all passengers," Saudia assistant manager for marketing Abdul Rahman Al Fahd said, according to Saudi daily Ajel.
خبر-تدشين وصول طائرة "السعودية" الجديدة من طراز بوينج 300-777 pic.twitter.com/sGjFvhVxoG

— SAUDIA | السعودية (@Saudi_Airlines) December 24, 2014
Saudia's traveling policies are already in accord with the strict Islam practices of Saudi Arabia. For instance, in addition to the routine boarding announcements at the Kingdom's airports, a prayer or verse from the Quran is read prior to take off. Furthermore, international flights usually have a specially designated men's prayer area to accommodate 5 daily prayers. In addition, the airline does not offer any beverages or dishes which contain alcohol or pork products. And the onboard entertainment menu does not offer any movies with adult content.
@Saudi_Airlines Dedicated prayer area on Saudi Arabian Airlines. سعودیہ ائیرلائنز میں ادائیگی نماز کےلیےوقف جگہ pic.twitter.com/aQcWX1GpcP

— Bashir Chaudhry (@ChaudhryBashir) January 30, 2014
The Kingdom itself is infamous for gender segregation in everyday matters of society. For instance, women typically require male guardian approval to travel or work outside of the home. Saudi women are also not employed as stewardesses on Saudi Arabia's national carrier. That role is reserved for women of other nationalities.
Ironically enough, Israel too is battling the same problem, as many ultra-orthodox Jews refuse to share their transit time with female companions. A flight from New York to Tel Aviv was delayed by half an hour in late December after a group of male Jewish passengers onboard a Delta flight refused to sit next to women.
It's Time To Arrest Ultra-Orthodox Jews Who Delay Flights Over Seating - The Daily... http://t.co/96fjLTHBY4pic.twitter.com/71utYoFt95

— Politolizer (@Politolizer) December 30, 2014
In October, on the eve of the Jewish festival Rosh Hashana, ultra-Orthodox (Haredi) men left the plane before take-off, also between New York and Tel Aviv, again refusing to sit next to women. In an incident in September, Israeli carrier El Al flight was postponed by 11-hours after a group of Haredi passengers refused to sit next to women.
READ MORE: Israeli airline criticized over Orthodox Jews 'bullying' women passengers
Last September an Israeli campaign, seeking to put a stop to the segregation stalemate started an online campaign on Change.org, entitled, "Ultra-Orthodox passengers refuse to sit next to women on El Al flights"
"Why does El Al Airlines permit female passengers to be bullied, harassed, and intimidated into switching seats which they rightfully paid for and were assigned to by El Al Airlines? One person's religious rights does not trump another person's civil rights," the petition said.
You can share this story on social media: