At least 33 killed in suicide attack near cultural center in southwest Yemen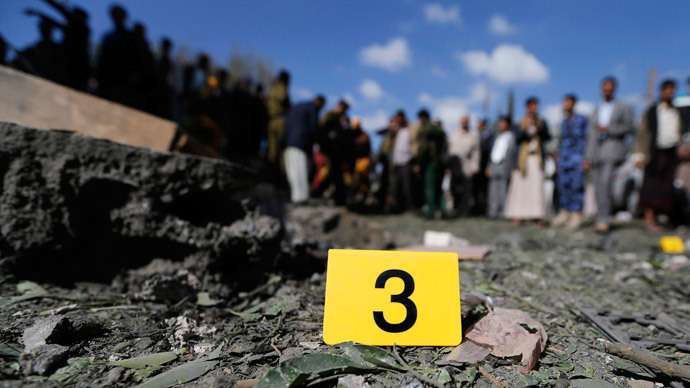 A suicide attack targeting Shiite rebels has killed at least 33 people who had gathered in a cultural center in the Yemeni city of Ibb.
The rebels, known as Houthis, had reportedly gathered at the cultural center to prepare for celebrations of the prophet Muhammad's birthday over the weekend, AP reports. Witnesses said a strong explosion targeted the area.
Medical sources and residents told Reuters that at least 20 bodies, including women and children, were rushed to Ibb's al-Thawra hospital. Another 13 bodies were taken to another hospital called al-Manar.
The provincial governor was reportedly among those wounded in the blast.
DETAILS: Suicide attack targeting Shiite rebels kills at least 33 in Yemeni city of Ibb http://t.co/YexdPuwwmEpic.twitter.com/QV6OkNryaE

— RT (@RT_com) December 31, 2014
No one has claimed responsibility for the attack, though al-Qaeda in the Arabian Peninsula (AQAP), which has a strong presence in Yemen, has carried out similar bombings against the Shiite rebels in the past.
At least 34 people, including 25 Houthis, six tribesmen and three AQAP fighters, were also killed on Tuesday and Wednesday morning when fighting broke out in the Khubza and Almanaseh villages in Radaa district of central Yemen, Al Jazeera reports.
According to the Doha-based broadcaster, the violence erupted after Houthi rebels tried to seize the villages from local tribesmen.
Since September, the Houthis have captured large swaths of Yemen, including parts of the Yemen capital Sanaa in a protracted battle against the government of President Abed Rabbo Mansour Hadi.
Hadi had previously warned that Yemen is facing "three undeclared wars" against Al-Qaeda, pirates in the Gulf of Aden, and the Houthi rebels, which he claims are being supported by Iran.
You can share this story on social media: