No New Year's fun: Indonesian city bans celebrations under Sharia law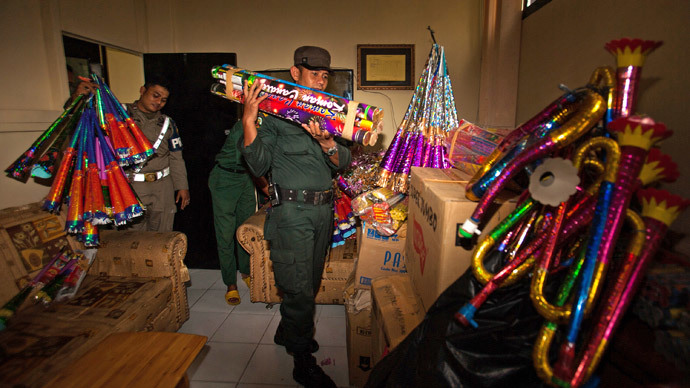 Thousands of fireworks and party favors have been snatched up in the Indonesian city of Banda Aceh after local authorities began enforcing a fatwa banning New Year's Eve celebrations in the country's sharia-ruled province.
The fatwa was issued by Aceh provinces clerical Ulema Consultative Assembly, which said that wishing someone 'Merry Christmas' or celebrating the New Year were forbidden under Sharia or Islamic law.
READ MORE: 100 lashes (or 100 months in jail) for gay sex in Indonesian province
"All events related to New Year celebrations are contrary to Islamic culture," Asia News cites Banda Aceh's Deputy Mayor Illiza Saaduddin as saying.
She continued that the celebration of New Year's "is not a religious event, but just a profane and worldly event where people only enjoy the transfer of a new day with hurrahs. Cafés and nightspots are told to stop their operation."
The city's Buddhist, Christian and Hindus minorities "will have to show respect" to the Muslim majority, Illiza added.
Although the ban is technically not legally-binding, the city's Sharia police and personnel from the public order agency have been mobilized to ensure the edict is observed.
Since Monday, the religious police have been conducting raids on street vendors and shops, seizing thousands of firecrackers, noise-makers, and cardboard trumpets.
They will also conduct raids on hotels and cafes, which have been warned not to mark the event.
"There should be no activity whatsoever to celebrate the turn of the year," AFP cites Reza Kamilin, a senior Sharia police official in the city, as saying.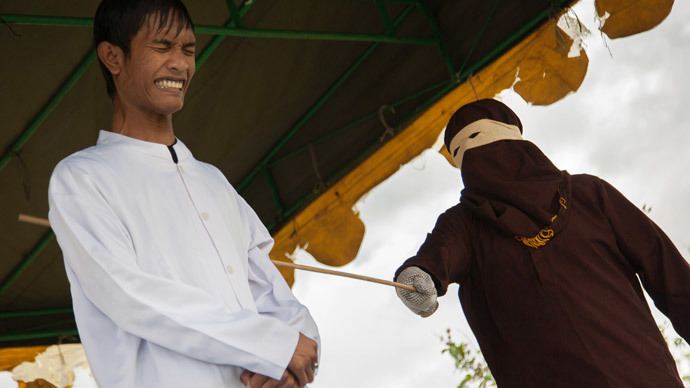 "We will dissolve any mass gatherings. If anyone is seen with firecrackers or trumpets, we will confiscate them," he continued.
Other administrations in Aceh province have also reportedly banned New Year's celebrations.
Aceh was granted the right to establish a version of Islamic Sharia law in 2001 to bring an end to nearly three decades of bloody insurrection in the province. In 2005, a peace agreement was signed that granted Aceh greater autonomy on condition that it remained within Indonesia, which comprises a sprawling archipelago of islands. The province's non-Muslim minorities, who make up roughly 1 percent of the population, are also subject to Sharia.
In September, lawmakers in the province passed a harsh anti-gay law making anal sex between men punishable by up to 100 lashes, 100 months in jail or a fine of 1,000 grams of gold. Women who are found guilty of "rubbing" their bodies against each other for "stimulation" can also be subjected to public flogging.
Adultery, gambling and consuming alcohol are also punishable by canning. Women can also be flogged for skipping Friday prayers or wearing tight clothing. Earlier this year, Amnesty International said that at least 156 people had been caned in Aceh since 2010 for violating Sharia law.
Although Aceh is the only province in Indonesia in which Islamic law in implemented, an increasingly extremist form of Islam is gaining a foothold in pockets of West Java and beyond.