'Mobile bomb': Iranian army tests suicide drone in massive drills
For the first time Iran's army has tested a suicide drone able to hit aerial and ground targets, as well as ships, said the army's chief commander of ground forces amid the third day of massive drills at the entrance to the Persian Gulf.
The unmanned aircraft is "a mobile bomb" that can be used for "hitting aerial and ground targets and can carry out an attack when it identifies a suspicious target," commander Gen. Ahmad Reza Pourdastan told journalists on Saturday.
Local media reports indicated that the drone is called Yasir. It's a domestically produced combat drone that was unveiled in September.
Yasir is equipped with state-of-art, light cameras for reconnaissance. It can fly for eight hours with a range of 200 kilometers and reach an altitude of 4,500 meters.
The drone was tested as part of a six-day exercise code-named Mohammad Rasoulallah (Mohammad, the Messenger of God) that started on Thursday, involving all branches of Iran's military.
The second stage of the maneuvers launched in southeast Iran on Friday was led by ground forces and involved the military's land, air and naval forces.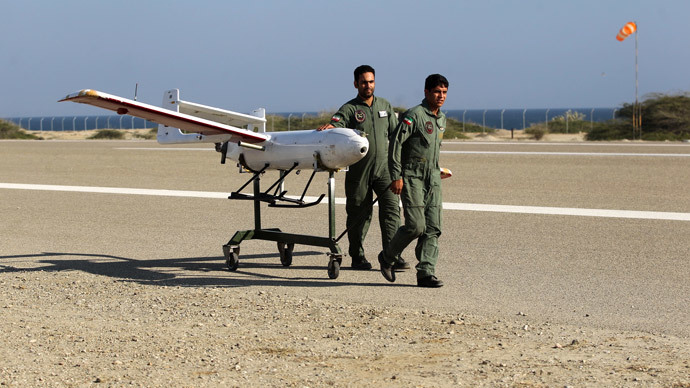 READ MORE: Iran stages massive military display to 'send message of peace' to neighbors
Reports indicated that tanks, F-4 Phantom and Mirage fighter jets, helicopters, missiles and artillery units were deployed in the war games.
The massive drills are part of boosting military capabilities and combat readiness, said Air Force spokesman Brigadier General Hossein Chitforoush.
"In these drills, Iran is putting to the test and drawing on the experience it gained during the eight-year [Iraqi imposed] war," the top commander told Iranian news television Press TV on Saturday.
The drills mark the first time Iran has organized military maneuvers so far from its coastline, according to the Lebanese Daily Star newspaper. The exercises reportedly cover 2.2 million square kilometers – stretching from the eastern part of the Strait of Hormuz to the Indian Ocean, and also include the southeastern provinces of Hormozgan and Sistan-Baluchistan.
You can share this story on social media: