Chupakabra or drunk aliens? Mexico barley field boasts new mysterious crop patterns (VIDEO)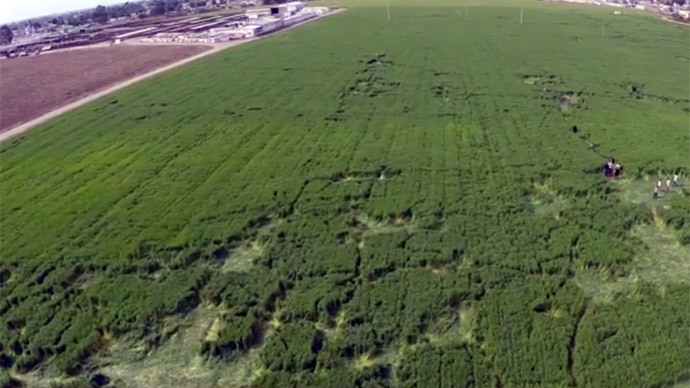 Hundreds of people have flocked to the Mexican municipality of Texcoco, attracted by a curious phenomenon of crop circles that appeared on Christmas Eve. The mystery of a seven-hectare pattern hasn't been solved yet.
In a cloudy and rainy sky, residents of the municipality 25 km northeast of Mexico City reportedly saw bright lights on Thursday night. According to local media, the next morning they were surprised to see strange patterns in a local barley field.
An anonymous woman called the police to report "the presence of aliens in farming areas and various figures in the crops," according to El Universal newspaper.
The authorities haven't got to the root of who is responsible for the crop circles, or how they emerged.
But the federal and municipal police have been guarding the field, as up to 2,000 people, scientists among them, have arrived at the scene to explore it, as well as take photos.
Rumors are circulating that it is an "alien sign," Tiempo website reported. On social media, Mexicans joked that those aliens could be "drunk," as the new circles are far from a regular shape.
Crop circles in UK vs. Crap circles in Texcoco! pic.twitter.com/8bXnuf2VW4

— Hazael Núñez (@hazaelnugnez) December 27, 2014
However, some locals insist on a rather skeptical explanation, blaming the wind – and playing down the version of the revival of chupacabras, or "goat suckers", legendary animal-killers, unknown to science.
People, who believe in Unidentified Flying Objects (UFOs) claim that so-called crop circles – or crop formations – are signs of alien presence. However, scientists suppose them to be man-made, with a possibility of nature's interference.
You can share this story on social media: