Scent of death: Scientists recreate JFK and Princess Diana's deaths via smell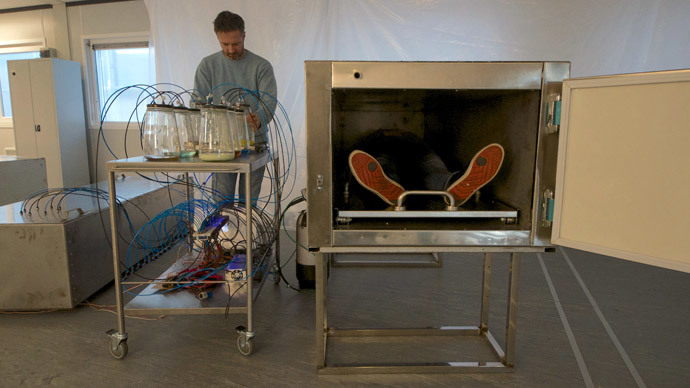 The final moments of famous people have been recreated in a Dutch installation, a combination of a morgue and a chemical laboratory, where visitors plunge into the moment with the help of various smells.
The sense of smell is unique as reportedly it appears least frequently in dreams – and it is absolutely impossible to recall by mind. However, a smell, caught by the nose, is immediately and vividly recognized.
The insufficiency of videos and reports concerning the last seconds of four prominent people – John. F. Kennedy (1963), Princess Diana (1997), Muammar Gaddafi (2011) and Whitney Houston (2012) – has been illuminated somewhat by the "Famous Deaths" installation at Avans University of Applied Sciences in Breda, Netherlands.
"What must it have been like to be near that car? You would smell an autumn wind, the grass, the leather car seats, Jackie Kennedy's perfume, exhaust fumes mingled with the somewhat musty scent of that limousine, and then suddenly the penetrating scent of blood, brains and gunpowder drilling its way into your nostrils," Breda University researchers, led by professor Frederik Duerinck, say on the project's homepage.
"A short but intimate experience" is created only by sound and smell, which according to the scientists is "deeply rooted and directly connected with our emotions and memories."
Visitors will lie in one of the four coffin-like silver metal boxes, which are dark inside, listening to a soundtrack, while a certain combination of scents is piped into the box to replicate the moment, AFP reported.
For instance, the death of Whitney Houston in a Beverly Hills hotel bathtub is recreated by the sound of splashing water and a mix of odors – cleaning products, olive oil and a chemical smell similar to cocaine. The singer died of accidental drowning, with cocaine and heart disease contributing to her death, according to a coroner's ruling.
READ MORE: 'Wake up and smell a trillion things!' Noses detect billions more smells than previously thought
"You can watch the pictures as many times as you want, it's just not the same thing... I almost felt myself being hunted," Riks Soepenberg, a 31-year-old who experienced the installation of Gaddafi's last moments, told reporters.
In another box, the sweet smell of Jacqueline Kennedy's perfume, that is no longer produced and was specially made for the occasion, blends with the scent of her husband's blood. "We had to rebuild something that resembled it as closely as possible," scientist Mark Meeuwenoord told AFP.
Freaky but fun; Just experienced Gaddafi's last moments.. in a former mortuary cooler #SenseofSmell#famousdeathpic.twitter.com/bD0k1XrJfm

— Joris Petterson (@JorisPetterson) December 2, 2014
In order to achieve accuracy, the scientists collected publicly available information, such as police reports and autopsies. Although historical accuracy wasn't the aim, they tried to explore the ways smell affects communication, and its ability to shed new light on old stories.
The "Famous Deaths" installation will tour Europe over the next months.