'Strip of ruins': Witness to 2004 Indian ocean tsunami & aftermath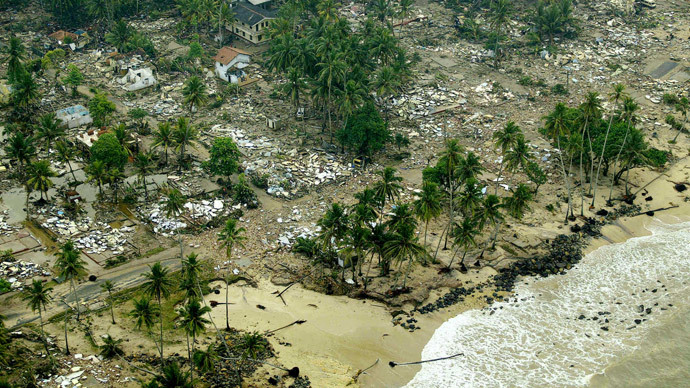 The scenes after the 2004 Indian Ocean tsunami presented a "surrealistic picture" of ruins alone the devastated seashore, recalls a witness to perhaps the biggest natural catastrophe of the 21st century, 10 years ago today.
"It was a surealistic picture. We saw an entire strip of ruins along the seashore. We had an impression that we are moving along a dump of construction waste. This dump stretched out for dozens of kilometers," Sam Klebanov, a Russian film industry professional, told RT.
Klebanov found himself in the epicenter of one of the biggest disasters when he arrived in Sri Lanka on December 26. However, he didn't evacuate, but decided to organize help for those affected by tsunami.
At first, he and his friends bought water and necessary aid at their own expense, and then they managed to raise about $55,000 via the internet.
"Nobody knew if it was safe for us [to travel] along the devastated areas. We heard that the first humanitarian convoys didn't reach their destinations and were robbed on their way," he said.
Klebanov asked British High Commission in Colombo, the capital of Sri Lanka, for security assistance. They were escorted by four British servicemen. However, during their mission no one attacked them or their trucks.
The convoy made it some 120km along the devastated coast. Klebanov said they saw only one official aid station for those who survived the tsunami, adding that neither UN, nor Red Cross were working in the first days after the disaster.
"People were burning the tires. They thought that by this they may scare away the infections. Everything was in smoke, in the darkness we saw lost figures of people on the ruins," recalls Klebanov.
He spent about a month in the devastated areas and managed to help dozens of people who lost everything because of disaster, the region's most powerful in 40 years.
First of all they were delivering water, but later, when the Red Cross took over management of the water supply in the affected areas, Kebanov and his friends decided to bring clothes and toys.
"[The victims'] houses were all swept away. [The kids] didn't have any toys… We had a touching moment when in one camp we arranged the distribution of toys. It was wonderful," he recalls with a smile.
The tsunami was triggered by a 9.1-magnitude earthquake the morning after Christmas, on December 26. A 17-meter-high wave crashed over dozens of countries, including Indonesia, Sri-Lanka, India and Thailand, wiping away entire coastal communities.
At least 227,898 of people were confirmed dead and thousands remain missing. The survivors saw a dreadful picture of corpse-filled waters in the days after the tragedy. Indonesia's Aceh province alone saw a death toll of about 168,000 people.
Apart from a large number of local residents killed in the disaster, there were about 9,000 foreign tourists (mostly Europeans) dead or missing.