Festive space: Floating caviar & stockings, ISS crew gear up for Christmas (VIDEO)
'Tis the season to be… floating! The jolly crew of the ISS is getting ready to celebrate Christmas and New Year. Presents are packed, stockings are up and even a tin of caviar is "levitating" around the station.
Russian ISS trio Aleksandr Samokutyaev, Anton Shkaplerov and Elena Serova, the first Russian female cosmonaut in 17 years, have gathered around the table for a traditional Russian dinner.
"Here you can see our space New Year's dinner," says Samokutyaev. "It differs from those dinners we have on Earth. But we were trying to cheer up our holiday with an original New Year menu."
What makes this ISS holiday dinner absolutely different is that the food floats. This is "the most incredible thing," Samokutyaev says.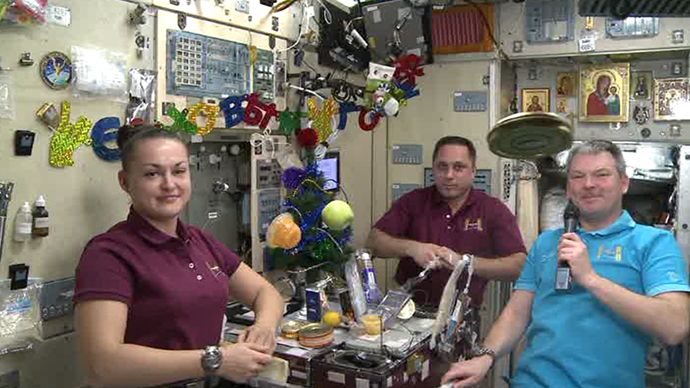 "We have fruit and even a tin of black caviar. It's small but it's black caviar," says Samokutyaev, as the tin of black caviar floats above the heads of the Russian cosmonauts.
READ MORE: Cup of ISSpresso & other space novelties
The cosmonauts haven't forgotten about traditional New Year symbols and decorations – a tree, presents and a deer's antlers.
"We have our own New Year tree on the table. The toys are all soft as we can't use glass ones," says Serova. "We have our own Ded Moroz [Russian version of Santa Claus], stockings for presents…"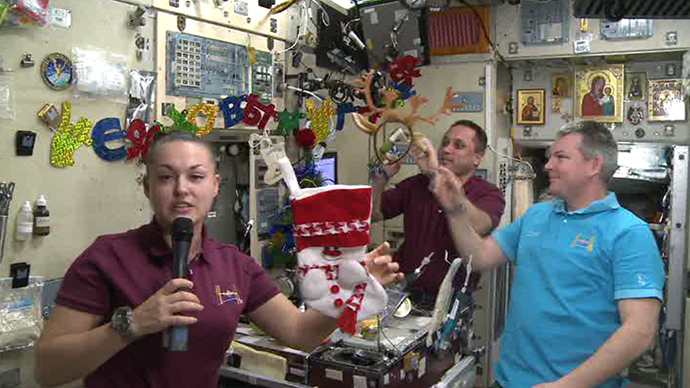 There is exactly one week left until the world welcomes 2015. The ISS crew plans to celebrate arguably more than anyone – 16 times, as Serova earlier revealed to RIA Novosti news agency.
US astronauts Barry Wilmore and Terry Virts have prepared several heart-warming videos with Christmas greetings.
"Hello from the ISS," says Wilmore, an ISS commander, on the video, "And we want to take the opportunity just briefly to wish you all a merry Christmas and a Happy New Year."
MT @Space_Station: From low orbit on #ISS, @USNavy & @USAirForce astronauts: Happy Holidays! http://t.co/9sTHts4dy5@NASA

— U.S. Navy (@USNavy) December 23, 2014
Wilmore added that the astronauts "like the wise men," prepared some gifts for the ISS crew. He pointed at the stockings behind them.
"Christmas for us is a time of worship. It's a time that we think back to the birth of what we would consider our Lord. And we will, we do that at our homes, and we plan to do the same thing up here."
Send holiday greetings to @NASA_Astronauts@AstroTerry & #AstroButch on @Space_Station: http://t.co/iMeARA2lUvpic.twitter.com/1NXjSTaCAk

— NASA (@NASA) December 23, 2014
NASA has opened an option called Holiday Greetings where everyone can send a tweet to Wilmore and Virts on the ISS to congratulate them on Christmas and New Year.
Samantha Cristoforetti, Italy's first female astronaut, joined the NASA crew and greeted everyone in Italian.
It looks like #Christmas on the #ISS as #Exp42 works advanced life science in space... http://t.co/pQZujkgllfpic.twitter.com/NDl8bZsCe9

— Intl. Space Station (@Space_Station) December 23, 2014
The holiday spirit on the ISS is in full swing - the station is decorated with stockings for each crew member and a small Christmas tree.