Jordanian pilot captured by ISIS after jet downed over Syria
Published time: 24 Dec, 2014 10:35
Edited time: 24 Dec, 2014 22:44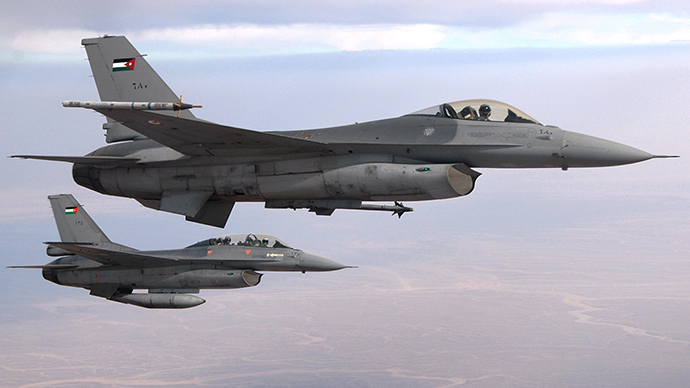 Militants from the so-called Islamic State (IS) have captured a Jordanian jet pilot, whose warplane was reportedly shot down over the jihadists' stronghold in the eastern Syrian province of Raqqa.
A series of pictures showing cheering gunmen carrying a young and apparently battered man wearing nothing but a white shirt have surfaced online in the wake of the crash.
طيار أردني لم يجد إﻻ مياه الرقة ليستمتع بالسباحة و اﻵن ستداعبه سكين الزرقاوي .. هنيئآ مريئآ pic.twitter.com/dht5BiTUhK

— السلطان سنجر ✒ (@Alsultansinjer2) December 24, 2014
The man is allegedly a Jordanian Air Force pilot, Muadh Yusuf. IS claims to have shot his plane down with an anti-aircraft missile. This is the first coalition fighter jet that the militants have claimed to have shot down in the region following months of airstrikes. Images of the allegedly downed jet have been published on social media.
#ISIS has published pictures of the debris of the Jordanian plane downed in Raqa #Syria#Jordanpic.twitter.com/cWSnESFUX0

— Ezzedine Said (@ezzsaid) December 24, 2014
The plane crash was first reported by the British-based Syrian Observatory for Human Rights. Later on Wednesday, the Jordanian military confirmed one of its pilots had been captured during coalition airstrikes on IS-held territory. The Jordanian army told IS it is responsible for the pilot's wellbeing.
"It is well known that this organization [IS] does not hide its terrorist schemes, where many of the criminal acts of destruction and killing [target] innocent Muslims and non-Muslims in Syria and Iraq. Jordan holds the group and its supporters responsible for the safety of the pilot and his life," the statement reads.
Two relatives of the pilot told Reuters they had been notified by the head of the Jordanian air force about the incident.
#أسر_طيار_أردني_في_ولاية_الرقة هل كنت تضن ان الله سيتركك تقتل المسلمين في الليل دون عقاب! القاتل يُقتل pic.twitter.com/CeDBtmPK4o

— دم عثمان (@6baraa) December 24, 2014
However later in the day the US military said their evidence did not show that the Islamic State shot down the warplane at all.
"Evidence clearly indicates that ISIL did not down the aircraft as the terrorist organization is claiming," the US military's Central Command said in a statement.
IS is a radical Islamist group seeking to create a caliphate in predominantly Sunni territories of Iraq and Syria. The militants have been exterminating residents of those territories belonging to ethnic and religious minorities who do fit into their vision of the future state.

Jordan is one of several Arab states which joined the US-led campaign to cripple IS through air strikes and via support of their opponents on the ground, including Kurdish militias and Iraqi army.
#ISIS releases photo of the military ID card of captured Jordanian pilot Lt. Muath Kasasbeh. #jordanpic.twitter.com/yqEGharpjG

— Mureed Hammad (@mureedhammad) December 24, 2014
On Tuesday, the Observatory reported that at least 1,171 members of IS and the ideologically-aligned Al-Nusra Front had been killed in Arab and international airstrikes since September 23. The Observatory also said that Syrian government airstrikes had killed 20 people in Raqqa province on the same day.