S. Korean nuclear plants hacker leaks new data right after president orders security boost
South Korea has boosted cyber-security at all its key state-run facilities after a series of "grave" data hacks threatened 23 nuclear power plants. Following the order, the hacker struck again and leaked new diagrams from two nuclear reactors.
Local Yonhap news agency has reported that another four files have been posted on Twitter in what has become the fifth leak from the Gori and Wolsong nuclear power plants in just over a week.
The information appeared in the same account that the hacker, calling himself "president of the anti-nuclear reactor group", has used for leaking reactor-related information since December 15.
READ MORE: S. Korea nuclear plant hack: 3 reactors demanded closed by Christmas
"We are now looking at it ... We believe it was done by the same user," an official at the S. Korean prosecutor's office investigating the cyber-attacks told Reuters by phone.
The leak on Tuesday followed shortly after President Park Geun-hye's met with his cabinet.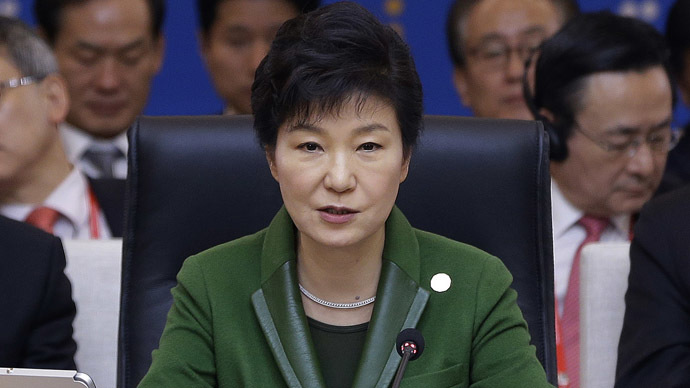 An official at the Korea Hydro and Nuclear Power Co Ltd (KHNP), which runs South Korea's 23 nuclear power reactors, said it was working to verify whether the data had been taken from its computers.
Describing the recent data leaks as a "grave situation" that is unacceptable, President Park ordered the country's top officials to step up cyber security for all state-run companies.
"A grave situation that is unacceptable has developed when there should have been not a trace of a lapse as a matter of national security," she said. "Nuclear power plants are first-class security installations that directly impact the safety of the people."
A government official told Reuters that authorities have raised the cyber crisis alert from "caution" to "attention".
Calling attacks on KHNP's plants "cyber terrorism," Park ordered inspections of safeguards at national infrastructure facilities.
South Korea has repeatedly accused the North of carrying out cyber-attacks on its banks and broadcasters. However, at the meeting Park made no links between the recent incidents and North Korea.
On Monday, a S. Korean team of investigators asked for FBI help in locating the hacker, who has so far disclosed designs and manuals of nuclear plants, including Gori-2's and Wolsong-1's air-conditioning and cooling system, not to mention the personal information of some 10,000 employees.
It's known the Twitter account of the "president of the anti-nuclear reactor group" was registered in the US.
"We are not sure whether the person himself hacked the website of the reactor operator, but we believe he is very skillful," the Korea Times said, citing a member of the team.
The hacker is demanding the shutdown of KHNP's Gori-1, Gori-3 and Wolsong-3 nuclear reactors for three months starting Christmas.
You can share this story on social media: