Sony threatens to sue Twitter over hack tweets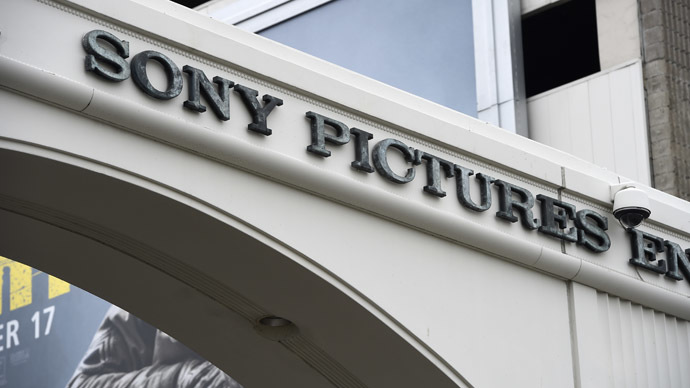 Sony Pictures has threatened to sue Twitter if it does not ban the accounts of users sharing information gleaned from the massive cyber-attack which targeted the company's computer systems late last month.
The warning was relayed in a letter sent by Sony lawyer David Boies to VIjaya Gadde, Twitter's general counsel.

READ MORE: Worst corporate hack? Leaked Sony docs reveal Sony salaries, employee details
The threat specifically singled out the Twitter account of Val Broeksmit, a musician with 19,000 followers who has tweeted extensively about the Sony leaks from the account @bikinrobotarmy.
"As Twitter is aware, someone using the Twitter account name: @bikinirobotarmy (the 'Account Holder') is in possession of, and is using this Twitter account to publish SPE's (Sony Pictures Entertainment's) stolen documents and information (the 'Stolen Information'), pursuant to the perpetrators' scheme,"a copy of the letter obtained by the Wall Street Journal reads.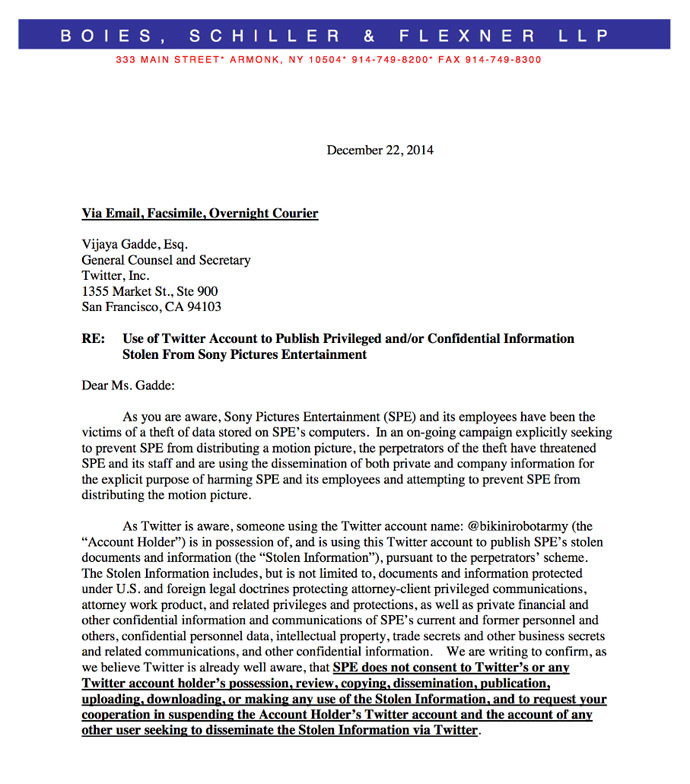 "We are writing to confirm, as we believe Twitter is already well aware, that SPE does not consent to Twitter's or any Twitter account holder's possession, review, copying, dissemination, publication, uploading, downloading, or making any use of the Stolen Information, and to request your cooperation in suspending the Account Holder's Twitter account and the account of any other user seeking to disseminate the Stolen Information via Twitter," the document continues.
READ MORE: US investigators link North Korea to Sony hack - officials
It warns that both Broeksmit and any other Twitter user passing on information from the leaks are in violation of Twitter's 'Terms of Use', adding that it violates a slew of state and Federal laws. Sony asks that Twitter both suspend Broeksmit's account and "take all reasonable actions" to prevent the dissemination of the "stolen information."
Sony further asked Twitter to pass the legal threat on to Broeksmit.
Broeksmit told Motherboard he had previously been contacted by a Sony representative via direct message on Twitter. The representative asked him to remove the offending tweets so that they company would not have to complain to Twitter directly and "risk them taking action against your account."
Twitter's legal department told Broeksmit that it would be unable to provide him with "legal advice," saying he "may wish to contact your own attorney about this matter."
A Twitter spokesperson told Motherboard that while it did not allow users to post the private information of other people directly in tweets, linking to such information is allowed. In at least three separate tweets, however, Broeksmit directly posted photographs containing the hacked information.
Sony pays #KevinHart $2million just to tweet about #TheEqualizer. #DenzelWashington#SonyHack#AmyPascal#SonyEmailspic.twitter.com/d0KzA4uOvv

— val broeksmit (@BikiniRobotArmy) December 22, 2014
At the time of writing, his account is still accessible.
'Sony Loves Denzel..but AA Actors make less money at Sony'- #SonyHack#AmyPascal#DenzelWashington @sylvester_tani pic.twitter.com/DveyXjhNB9

— val broeksmit (@BikiniRobotArmy) December 22, 2014
Sony has yet to comment on the warning.
#ScottRudin makes sense, Defends #DannyBoyle and #MichaelFassbender for #SteveJobs fiasco. #SonyHack#SonyEmailspic.twitter.com/eSugWYuc9G

— val broeksmit (@BikiniRobotArmy) December 20, 2014
A massive November cyber offensive was launched against Sony Pictures Entertainment, and last week dumped five of the studio's upcoming movies and knocked out the company's entire computer network. After receiving a bundle of the leaked docs from the anonymous hackers in an email, Fusion's Kevin Roose published a roster of the company's 17 top earners on Monday.

The hack has been linked to a previously unknown group calling itself the Guardians of Peace, though American officials believe North Korea is "centrally involved" in the cyber-attack, which was allegedly sparked by a Sony Pictures comedy entitled 'The Interview'. The film's plot centers on an US assassination plot against North Korean leader Kim Jong-un.
Months before the hack, Pyongyang warned that the film was "a wanton act of terror and act of war" which would be met with a "merciless response."
Sony decided to cancel the film's planed December 25 release.
On Monday, North Korea completely lost internet access for 9.5 hours after US President Obama promised to "respond proportionally" to the Sony online breach.
Washington has not commented on whether or not it played a role in the internet blackout.
You can share this story on social media: