'My little one in Syria': Mom claims her 3yo son taken by ISIS dad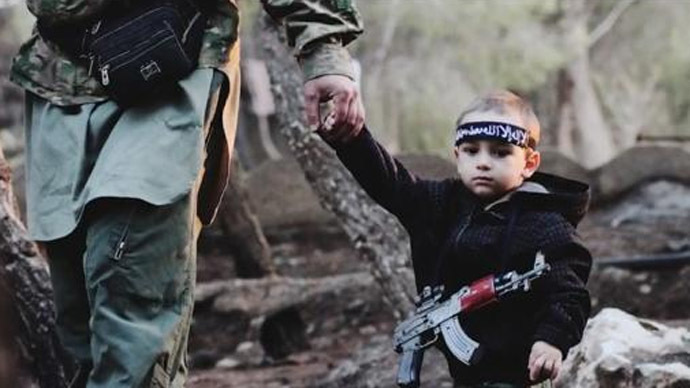 An emotional mother claims she recognized her 3-year-old son from pictures distributed on Islamic State forums. In the photos a boy, who was taken by his jihadist dad more than a year ago, is dressed in a black IS uniform and poses with a machine gun.
Cuban-born Lidia Solana Herrera told Italian Newspaper Corriere della Sera that her son Ismail Mesinovic was taken by his father Ismar Mesinovic from her home in the town of Belluno, in the Veneto region of northern Italy.

Ismar Mesinovic, a Bosnian native, was already separated with Herrera at the time of their son's kidnapping. He allegedly took the boy with him when he left Italy and headed to Syria to fight in the ranks of Islamic State (IS, formerly ISIS/ISIL) militants.
A few months after the child was taken, pictures of the Ismar Mesinovic's corpse appeared on the web.
"Il mio bambino nelle foto dell'Isis", la denuncia della madre di Ismail http://t.co/z4RLSoIVxnpic.twitter.com/5zGqGKXsEc

— Agenzia ANSA (@Agenzia_Ansa) December 22, 2014

Herrera claims she recognized little Ismail in several photos on jihadist forms promoting the IS.

"That child is Ismail," she told Corriere, as cited by the Local, "I pray every day that he will be brought back to me. I hope that he will come back here beside me. I think only of him, only him."

Herrera said that Mesinovic took Ismail in November 2013, while she was traveling to visit relatives in Cuba. She says she wasn't suspicious as he used to take Ismail to visit his family in Bosnia and Germany.
"I never had the faintest suspicion my husband was a terrorist," Herrera told La Repubblica, "When I knew they had left for Syria it was like everything around me fell apart. My little one in Syria...You can only imagine how a mother feels in front of news like that."

According to Herrera, she received text messages from Mesinovic's Bosnian relatives, who say that Ismail is in good health, reported Corriere.
Rapito dal padre, in mano all'Isis «Quel piccolo è mio figlio»|Foto http://t.co/GzTUalBvOhpic.twitter.com/P2Dq38C9aV

— Corriere della Sera (@Corriereit) December 22, 2014

She got the latest on Wednesday from Munifer Kalameleski, a Macedonian friend of Ismar, who also joined IS fighters. "Ismail is well," said his message.

Anti-terrorist police in the nearby city of Padua are now involved in an investigation into the child's disappearance. Experts are examining the authenticity of the pictures. It is not clear exactly when the photos of the boy were taken, as it has been a year since his father took him.

Though it has not yet been definitively established that the boy in the pictures is Ismail, investigators told Italian press that there are many common features between the recent photos of the child from the IS website and pictures before he was taken by Mesinovic.
You can share this story on social media: