Bush survival: Aussie family found alive after 10 days missing in national park
Published time: 22 Dec, 2014 11:37
Edited time: 22 Dec, 2014 11:53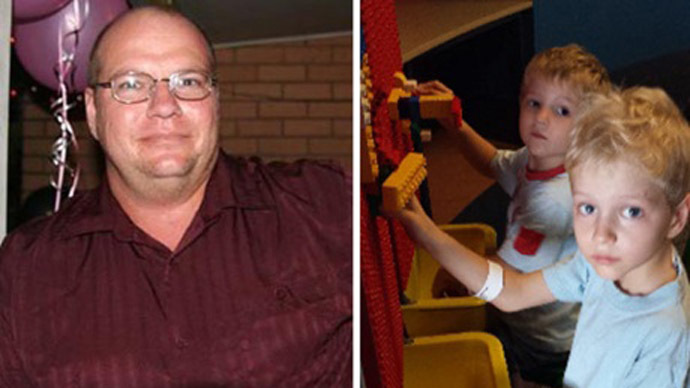 Extreme weather conditions helped a Brisbane dad and his two little sons to survive after spending 10 days in a densely-forested area of a national park. The trio managed to hold out in a bogged car with little to eat and were rescued quite by chance.
Their adventure began December 11 when Steven Van Lonkhuyzen took a wrong turn during a 1,700km journey north from Brisbane to Cairns in the state of Queensland and got his four-wheel-drive vehicle bogged in mud. The father had planned to use an inland route, so he and sons Timothy, 5, and Ethan, 7, were due to arrive in Cairns on December 15.

The boys' mother raised the alarm when the trio didn't arrive at a friend's home in Cairns and didn't get in touch. There is barely any cellphone reception in the Exhibition National Park, so they simply couldn't contact anybody.

The forest where they got lost is out of mobile phone reception range, only accessible by satellite phone. Police had conducted searches over several hundred thousand square kilometers, but to no avail.

Meanwhile, the unlucky travelers were running out of food, and the 37-year-old father had to carefully ration what was left among the boys. They managed to keep afloat with almost nothing to eat for a week, collecting rainwater in a plastic container.

"Luckily it rained," their rescuer, farmer Tom Wagner, told AP. "Otherwise they would have perished."

The national park gets very few visitors at this time of year because of extreme weather conditions – known as 'the rainy season'. Quite by chance, Wagner had seen Lonkhuyzen's car enter the park a couple days back and later learned about the family's disappearance from media reports.

Steven Van Lonkhuyzen had tried to attract attention by laying out high visibility items around his vehicle and lighting fires. Police later praised him for making the right choice by deciding to stay with his white Mitsubishi Pajero.

The area they were discovered was totally off the beaten path, so no one else had been out there during their ordeal.
"The Tin Hut, if you searched it on Google you wouldn't find it, it's a piece of land normally visited only by cattle. It's black soil country, very soft. Even police officers who are extremely experienced are having trouble getting in there," Queensland Police Detective Acting Superintendent Owen Elloy told the Brisbane Times.

All the three were recovering at the Taroom Hospital Monday morning, the boys reported as being in a stable condition.

"They just need a good feed, a drink and a good night's sleep," Elloy said.