​Abortion debate in Ireland re-ignited as clinically dead pregnant woman kept on life support
Published time: 19 Dec, 2014 17:25
Edited time: 19 Dec, 2014 18:29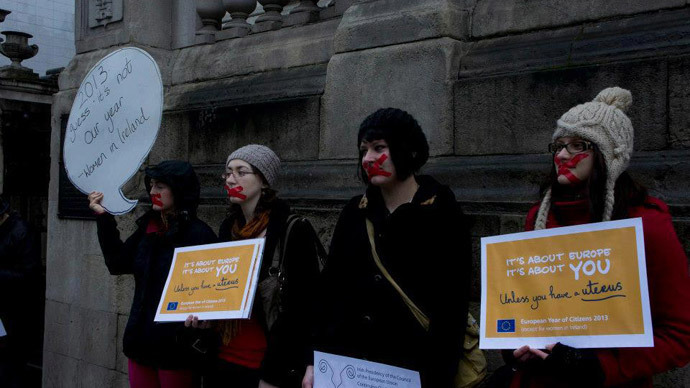 Irish health authorities sought legal counsel Thursday night about whether a clinically dead pregnant woman, who had suffered catastrophic brain damage, should be kept on a life support machine to save her unborn baby.
The case has reignited heated debate about Ireland's abortion laws. Pro-choice and human rights campaigners warn that the state's prohibition of abortion strips women of their basic right to bodily autonomy, and is hugely oppressive.
The mother of two, who is 17 weeks pregnant, suffered a severe internal injury several weeks ago resulting from a blood clot. She was subsequently transferred to Ireland's leading neurology department in Dublin's Beaumont Hospital, where medics fought to save her life.
While doctors were unable to rescue her, they kept the woman on a life support machine to protect her unborn child.
The woman's parents have reportedly requested their daughter's life support be switched off.
Irish doctors are unwilling to do so, however, in light of the country's constitutional Eighth Amendment, introduced in 1983. The legislation allocates equal rights to mothers and their unborn babies.
The brain-damaged woman's parents are considering legally challenging the decision to keep their daughter artificially alive. The complex and tragic case is expected to progress to Irish courts, with the Irish state representing the unborn baby.
Rising tensions
The case follows rising tensions between Irish Taoiseach (Prime Minister) Enda Kenny and the state's Health Minister Leo Varadkar over a potential abortion referendum to repeal the Eighth Amendment.
Previously, Ireland's Health Minister told the Irish parliament the amendment has a "chilling effect" on doctors, and is highly restrictive.
Varadkar is calling for the legalization of abortion in Ireland where there is a serious risk to the long-term health of women, and where fatal fetal abnormalities arise.
He is particularly critical of cases in Ireland where abortions are deemed illegal, even if a pregnant woman has suffered a"stroke, heart attack, or epileptic seizure,"causing permanent disability.
While the Eighth Amendment "protects the right to life of the mother," he told Irish MPs on Tuesday, it has "no regard for her long-term health."
Varadkar made the comment during a parliamentary debate on left-wing MP Clare Daly's bill to repeal the amendment, and replace it with legislation that "acknowledges the right of all citizens to personal autonomy and bodily integrity."
In parliament, Daly argued the policy shift is a "long overdue measure" that would seek to "protect women's lives, health and choices."
'A horrendous scenario for Irish women'
Abortion remains one of the most divisive and emotive issues in Irish society, fracturing political parties, communities and workplaces across the nation. Successive governments have failed to confront the issue, despite the fact over 3,000 women leave Ireland each year for abortions in other states.
Tension concerning Ireland's banning of abortion has mounted of late amid a slew of controversial cases.
In the last year alone, five migrant women in Ireland who wished to have abortions were forced to continue with their pregnancies. They included undocumented women, asylum seekers, and those who needed a visa to enter other states.
Reflecting on the case of the woman on life support, Irish Environment Minister Alan Kelly said the situation was "very sad."
The Labour Party MP acknowledged the case demonstrated a need for further revisions to abortion law in Ireland, but said such a move would not occur in the current coalition's lifetime. The Labour-Fine Gael coalition government is currently under fire over its stringent austerity program, particularly its highly controversial proposed water charges.
Speaking in parliament on Tuesday, Daly said Ireland's abortion legislation poses a "horrendous scenario for Irish women," which has led to countless unnecessary fatalities she described as "casualties of a nation's hypocrisy."
In 2012, 31-year-old Indian dentist Savita Halappanavar died tragically in Ireland following medics' refusal to acquiesce to her request for an abortion. She had experienced severe complications, which meant she would inevitably miscarry.
Halappanavar died seven days later, having suffered a septic blood infection that may have been prevented with earlier intervention.
Following her inquest, her husband described the treatment she received as "horrendous, barbaric and inhuman."