'Drunk journalist' laughed at in Putin's Q&A revealed as stroke sufferer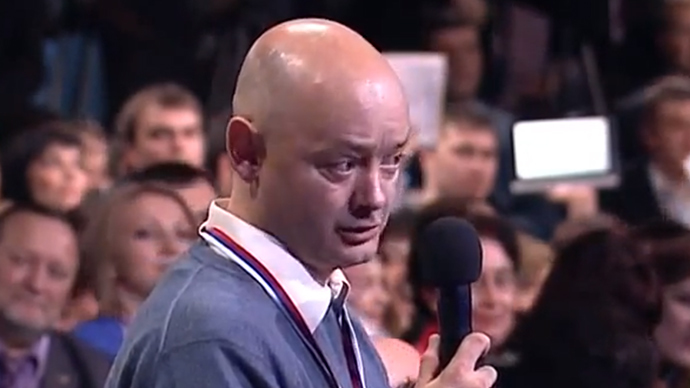 A provincial journalist, who acted strangely while asking Vladimir Putin his question during a nationwide Q&A session, was not drunk as many thought, but has serious health problems, the man's colleagues said.
Putin's 2014 Q&A marathon LIVE UPDATES
Putin's nationwide Q&A was going into the third hour and his press secretary, Dmitry Peskov, said it was time to give the floor to reporters from Turkey and Georgia.
But the microphone was taken by another Russian journalist, who introduced himself as Vladimir Mamatov of the Reporter newspaper from the city of Kirov, formerly known as Vyatka.
"But you're not from Turkey," Peskov said.
"No, I'm not. That's just the way it is," Mamatov replied, making the audience laugh.
It took Mamatov some time to formulate what he wanted to ask as the man was talking slowly and kept wandering from the subject.
His question was about kvas – a traditional Russian brewed drink with a small percentage of alcohol in it – which is produced in Kirov in large quantities, but the drink is being denied access to Auchan and other big retail chains, Mamatov said.
"I feel you had a bit of kvas yourself in the morning," Putin joked, sharing the crowd's suspicion that Mamatov is drunk.
"I wanted to give you a try [of our kvas], but the security didn't allow me to bring anything in," the journalist replied.
He then continued, saying: "We make a lot of this kvas. It's very good. We've made it for a long time."
"I can see that already," the president said, prompting more laughter.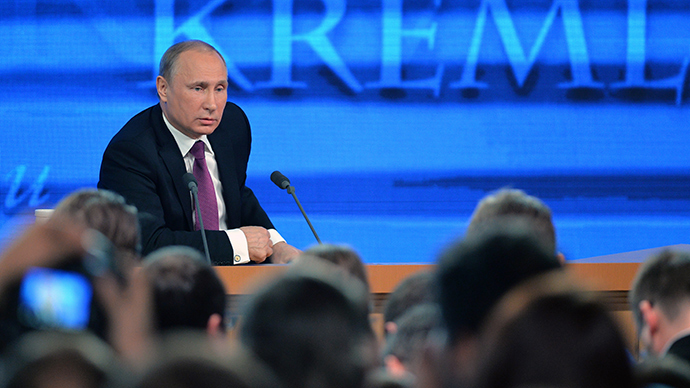 But Putin then answered the question, "jokes aside," saying that Mamatov's complaints were "absolutely justified" and that Russian producers must be supported by the state.
The "drunken journalist" quickly became one of the most discussed topics on the Russian Twittersphere and Facebook, with videos of his performance at the Putin's Q&A posted on YouTube.
"The drunken journalist and Putin's presser made my day," one of the Twitter users said.
"A drunken journalist at President's press conference! Now you've seen everything," commented another one.
"It's the most sober drunken journalist ever," another Twitter follower wrote.
However, Mamatov's colleagues from The Reporter newspaper were quick to stand up for their colleague.
"He wasn't drunk really. He has delayed speech because he suffered two strokes and a head injury," Irina Aleksandrova told the Russian News Service (RSN).
Kirov Governor Nikita Belykh wrote on Twitter that demand for Vyatka Kvas has increased tenfold thanks to Mamatov.
His words were confirmed by the Vyatka Kvas brand, who told Izvestia that they are now "receiving numerous offers of cooperation from retail chains."
"After such advertising, I am sure that our talks with Auchan will have a positive outcome," Ruslan Vladimirov, Vyatich company CEO, told the paper.
You can share this story on social media: