Khodorkovsky has right to enter politics, no regrets over pardon – Putin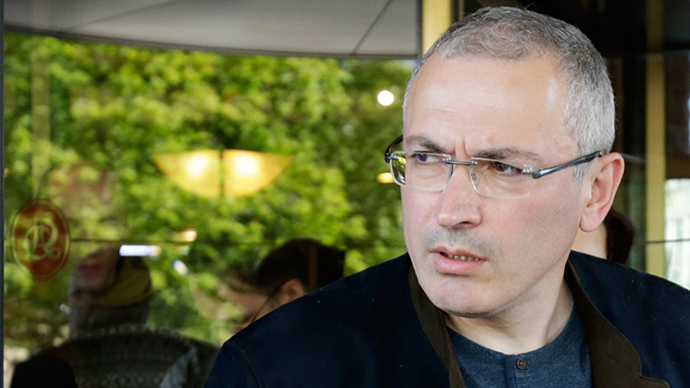 President Vladimir Putin's decision to pardon former oil tycoon Mikhail Khodorkovsky was a humanitarian act and has nothing to do with his pledge not to go into politics, the Russian leader assured. He added he didn't regret the move in the least.
Putin recalled his pardoning of Khodorkovsky during his annual Q&A session with the media and public in Moscow. He announced the decision at the same event a year ago.
Putin's 2014 Q&A marathon LIVE UPDATES
The announcement came after the session itself when a journalist caught Putin as he was leaving the event. The release of the former YUKOS head happened a day later, with Khodorkovsky dodging journalists and flying to Germany to meet his mother right after leaving prison.
Khodorkovsky, who served more than 10 years in a Russian prison for tax evasion and fraud, said after his pardon that he pledged not to enter politics, but would be engaged in human rights activism. Since then he has held a number of public events and made statements, which, some observers believe, were a violation of that pledge.
But when asked whether he shared this opinion and regretted his decision, Putin responded in the negative.
"Khodorkovsky filed a plea for pardon and he said he wasn't going to go into politics. But I didn't make the decision based on whether he would go into politics or not. That's his decision and he can do it just like any citizen of Russia does," Putin said.
"He wrote that his mother was ill. A mother is sacred - I say that without irony. He served most of his term, so there was no sense keeping the man locked, considering that he might have lost the only chance to say goodbye to his mom," the president added.
Putin said he regrets nothing and believes that his choice to grant the pardon was absolutely right.
Дал попрощаться с мамой. Это правда. Семью не дал трогать - правда. Поэтому политический оппонент, а не враг. Пусть радикалы меня и ругают.

— Ходорковский Михаил (@mich261213) December 18, 2014
His words were quickly confirmed by Khodorkovsky himself.
"Let me say goodbye to mom. That's true. Won't let them touch my family – true. Hence – a political opponent, not an enemy. Let the radicals blame me," the former businessman said in a tweet.