Kurdish teenager shot dead in clashes with Turkish police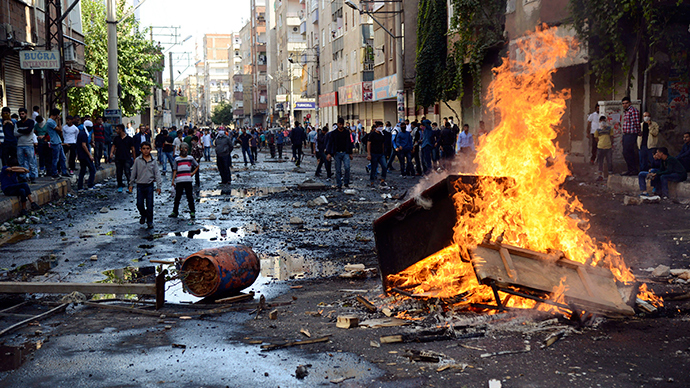 A 17-year-old boy was shot dead during clashes between police and the supporters of the Kurdistan Workers Party (PKK) in Turkey's mainly Kurdish southeast city of Diyarbakır on Tuesday.
Abdulkadir Cakmak was hit by three gunshots, with two bullets to the head and one to his chest.
The teenager was taken to hospital, but the doctors were unable to save his life, Hurriyet newspaper reported.
According to AP's sources, PKK youths opened fire on police officers with rifles and threw homemade explosives at them Tuesday.
The Diyarbakır Governor's Office has released video footage showing an individual who apparently has a rifle in his hands, collapsing on the ground after being shot.
YOU MAY FIND THIS VIDEO DISTURBING
The police said that the details of Cakmak's death will become clear after an autopsy is carried out.
One officer was wounded during the gunfight, the police said.
The teenager's relatives said they were sure that he was innocent and that Cakmak was "executed" by the security forces.
"[President Recep Tayyip] Erdogan gave the order, and the police shot [him]," Nurten Cayır, the victim's aunt, said.
Cakmak's father, Murat, said that his son had nothing to do with the PKK and was unarmed at the time of his shooting.
Şerefsiz TC Taliban İŞİD toplu öldürüyor ve üstleniyor siz birer birer öldürüyorsunuz üstlenmiyorsunuz! #KadirÇakmakpic.twitter.com/6uFc5lnnFo

— KOBANÊ (@azizDem) December 17, 2014
Cakmak's death comes just over a week after another Kurdish youth was shot dead during clashes in the Kurdish town of Yuksekova, near the Iranian border.
Dozens were killed in the region in October after the Kurds took to the streets to express their outrage with the Turkish government's unwillingness to assists the Syrian Kurds trying to protect the city of Kobani from Islamic State militants.
READ MORE:'Common enemy': Former ISIS member calls Turkey an 'ally' in fight against Kurds
The PKK, considered a terrorist organization by Turkey, the US and the EU, is fighting for the creation of independent Kurdish state.
The Kurdistan Workers Party's 30-year-old struggle against the Turkish government has led to the deaths of over 40,000 people.
Over 30 million Kurds don't have their own country, with the Kurdistan region spanning adjacent parts of Iran, Iraq, Syria and Turkey.
You can share this story on social media: