Molotov cocktail 'recipe' tops 2014 list of treats Googled in Ukraine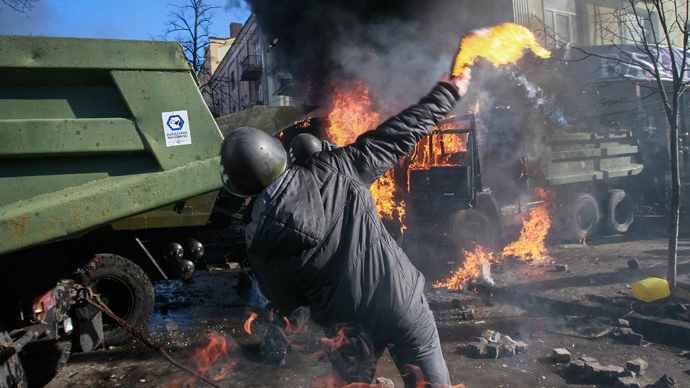 The most Googled recipe in Ukraine this year was an instruction on how to make a Molotov cocktail. In Ukraine's case it was a recipe for disaster, as petrol bombs became a symbol of ultra-nationalistic defiance to govt that resulted in the February coup.
According to Google's end-of-year statistics for the "recipe" search category, Molotov cocktail topped the list, ranking as the number one uneatable treat alongside eatable goodies such as Easter bread, pizza, cake and glaze.
Googling "Molotov cocktail" brings the Ukrainian internet user to a Wikipedia site, detailing the history of the self-made petrol bomb. But just a few search results down the list the query unveils the simple composition of the lethal weapon.
Equipped with handmade petrol bombs made from a lethal mixture of fuel in glass bottles, rioters attacked police officers in Kiev during anti-government protests that started in November last year.
With pro-democracy activists firing Molotov cocktails from home-made slingshots at security forces, the symbol of a burning flame weapon, for many Ukrainians became synonymous with right-wing neo-Nazi forces that were instrumental in orchestrating a coup against then Ukrainian President Victor Yanukovich in February.
Former President Yanukovich for his part became the most searched for person on Ukrainian web. Current Ukrainian President Petro Poroshenko came in third, immediately after a popular singer, Jeanna Friske. Russia's leader, Vladimir Putin, came in forth.
READ MORE: Battlefield Kiev: Molotov cocktails reign down, rioters rough up police (VIDEO)
In the "how to" category, Ukrainians turned to Google search to find out how to first of all "conserve energy," while the most popular "purchase" was "boiler" with "body armor" and "oil heater" taking fifth and eighth place.
READ MORE: Ukraine's violent escalation: From Molotov cocktails to ballistic missiles
Meanwhile in the "what is" category, on the top 10 search results, Ukrainian users were looking to find out what constitutes "separatism", "default," "lustration" and "fascism" – all the modern day scenarios that Molotov cocktail means seemed to have achieved with their recipe for disaster.
You can share this story on social media: