Robots, drones to boost Russian 5th gen nuclear subs' arsenal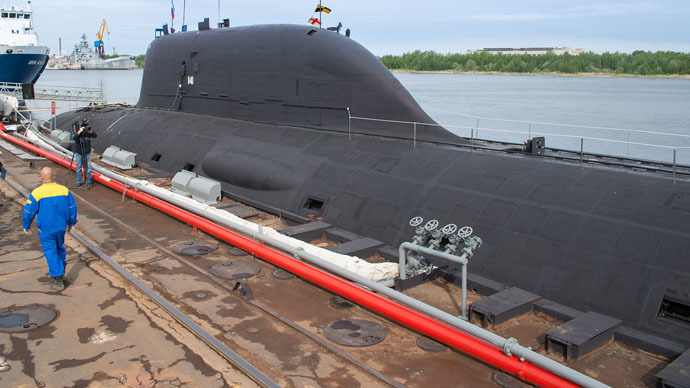 Russia's fifth generation nuclear submarines will be armed with robots and underwater drones in addition to conventional weaponry.
"The new [fifth] generation [of submarines] will be equipped with both contemporary weapons and those currently being developed," Nikolay Novoselov, deputy CEO of the Malakhit design engineering bureau, told RIA-Novosti.
"We're talking about battle robots which can be released by the submarine, and a type of underwater drone," he explained.
According to the designer, the robots would be disposable or returnable of military, surveillance or communications purpose.
"They'll be released by the submarine and stay offline before being remotely activated on command. It will give the submarine time to leave the area, with the drone staying in place to maintain a semblance that the submarine is still there," he said.
Novoselov stressed that developing robots for submarines isn't an exclusive Russian field, as "the whole world is moving in this direction."
However, it'll take some time for underwater drones to become common practice, because at present the Russian military is being equipped with fourth generation subs.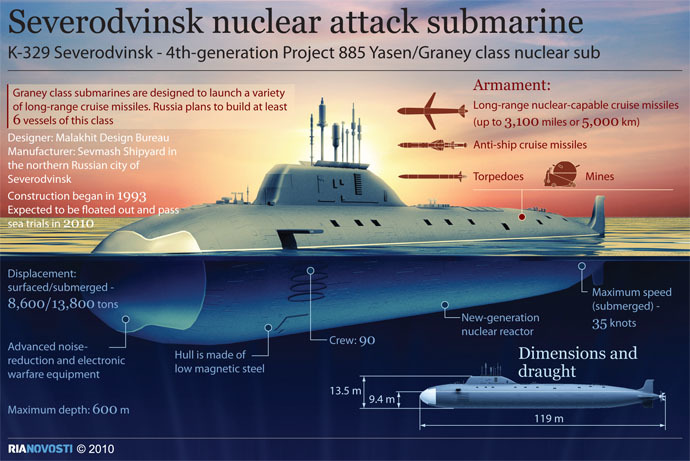 This year, the St. Petersburg-based Malakhit design engineering bureau completed the 20-year construction of the Severodvinsk multipurpose nuclear submarine, which has already joined the naval fleet.
READ MORE:Russian navy welcomes most-advanced nuclear-powered attack sub
Severodvinsk is the flagship of the Yasen-class submarines, which will become the backbone of the Russian Navy's conventional submarine force.
In addition to 533mm torpedoes, Yasen-class submarines can fire cruise missiles from its eight vertical launching systems. They can also carry Onyx and Kalibr supersonic anti-ship missiles.
The subs have a submerged displacement of 13,800 tons and can travel up to 30 knots (56 kmh) under water.
The crew totals some 64 sailors, including 32 officers, proof of the highly-automated level of its functions.
Russia is currently building three more Yasen-class submarines, with three more contracted for 2015.
You can share this story on social media: