Dashcam 'captures' Star Wars TIE fighter crash on snowy German highway (VIDEO)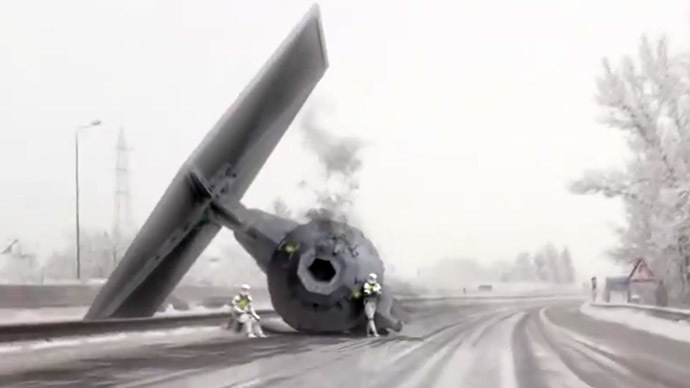 Dashcams have filmed many amazing things in the past, such as the meteor shower over the Russian city of Chelyabinsk. However, this could be the first time a Star Wars imperial Tie Fighter has ever been caught on camera by a driver
A motorist driving in Germany apparently passed the Tie Fighter with debris dotted across the highway, while two galactic storm troopers were casually waiting to be picked up.
READ MORE: Spectacular fireball from space explodes over Russian city (VIDEO)
The footage was presumably created by a fan of the show and the clip was posted on the Facebook page of the Dein Sky Fim channel. It has proved to be quiet a hit, and has already amassed an astronomic amount of views, in excess of seven million.
This is not the first time that a Star Wars fan clip has gone viral. Over the summer, YouTube user Frank Wunderlich turned Frankfurt Airport, one of Europe's busiest, into an entirely different hub as it was transformed into the Imperial Starport.
The footage was, of course, fake, but it showed wonderful creativeness and was a massive hit with the video-sharing network, garnering over 7.5 million views so far.
You can share this story on social media: