Wrecking love: Dutchman's proposal ends in crane crashing into neighbor's house (VIDEO)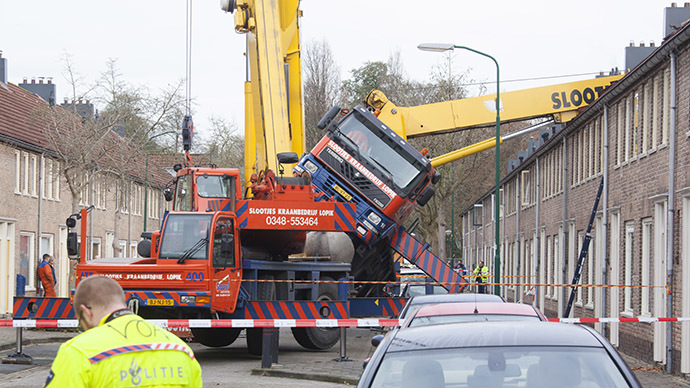 A Dutchman rented a crane to descend to his girlfriend's window and propose in an unconventional way. However, things went awry when the crane crashed into the roof of a neighbor's house, making people wonder if it's safe for the bride to say "I do?"
All other proposal scenarios looked boring and uninspired. So, the unidentified man in the central Dutch town of Ijsselstein decided to hire a crane to carry him to his loved one's bedroom window. There, looking into his lover's eyes from the height of the second floor, he planned to play a song and pop the million-dollar question.
But in next to no time the unsecured crane toppled into a neighbor's house, emergency services spokesman Jelle Mulder told AFP.

What's even worse, during an attempt to right it, the crane slipped and fell on the house again.
Neighboring houses have been evacuated and luckily no one was hurt.
"The people in the house the crane fell on are deeply shocked," the 'hero of the day' said.
Local authorities will decide whether the house needs to be demolished after the crane is lifted.
Meanwhile, the fearless girlfriend did accept the marriage proposal, Dutch media reported. The lovebirds have gone on a Parisian holiday to celebrate.
You can share this story on social media: