Dozens of graves, mostly Russian and Serbian, damaged by vandals in Sydney (VIDEO)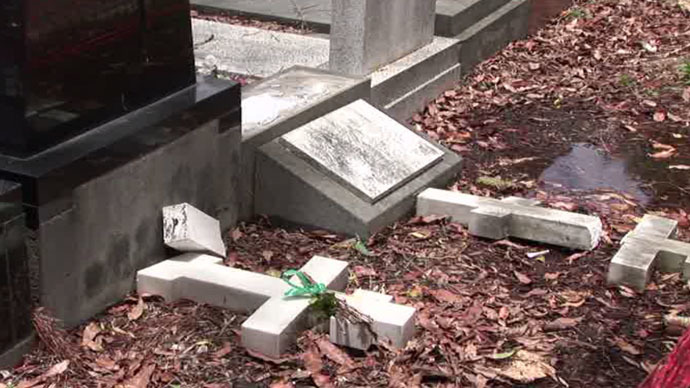 At least 76 graves, mostly Russian and Serbian, have been damaged by vandals in a Sydney cemetery. The incident, already condemned by Moscow, happened a day before Ukrainian President Petro Poroshenko's official visit to Australia.
Headstones knocked down, crosses turned over – that's how the Russian and Serbian sections of the Rookwood Cemetery, the biggest in Australia, looked after an attack that reportedly took place before dawn on Wednesday.
Some of the damaged graves were also discovered in two non-denominational sections of the cemetery, which led to police being skeptical of whether the attack had been provoked by racial or religious hatred.
However, the timing of the assault – a day before the Ukrainian president's arrival for a two-day visit to Australia – has given rise to suspicions that the desecrators particularly targeted Russian graves.
The Russian Orthodox cemetery spokesperson, Aleksey Ivachyoff, said no politics could excuse what was done to the graves.
"Some people that I've seen coming here, once the news came across, they were crying," he told RT. "They said, 'Nothing like this has ever happened before.'"
"There is absolutely... no excuse," he added. "Whatever political differences people have, they shouldn't take it [out] on the cemetery. They shouldn't take it [out] on the graves. They should let people there rest in peace."
The Australian Federation of Ukrainian Organizations labeled the attack a hate crime, calling for an investigation "at the highest levels," the Sydney Morning Herald reported.
Russia's Foreign Ministry in a statement on Friday also condemned "the blasphemous desecration of our compatriots' graves, which cannot be justified."
On Thursday, Cossacks living in Australia – descendants of those who emigrated from Russia a century ago - announced they will reward anyone with information about the vandals with 5,000 Australian dollars, TASS reports. The Cossacks, who were the first to report the assault, have said they are currently helping police patrol the damaged cemetery to prevent new attacks.
You can share this story on social media: