Full-face Islamic veil banned in China's Uighur region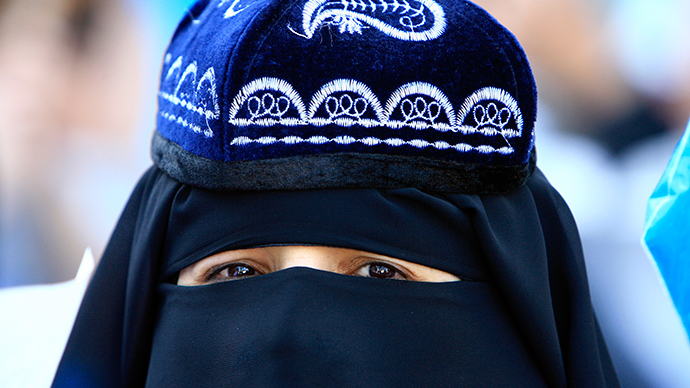 The capital of China's western Xinjiang region – home to its Uighur Muslim minority – has banned the wearing of veiled Islamic robes in public amid pressure from Beijing to crack down on religious extremism, the regional government said on Thursday.
According to the official website of the Xinjiang government, the ban was "considered and approved" by the Urumqi parliament's standing committee.

China is becoming increasingly concerned about Islamist extremism, with experts worried that it may create unrest in the troubled region.

Uighurs – the dominant Muslim minority in Xinjiang – mostly practice a moderate form of Sunni Islam, but recently many have begun taking up practices more commonly followed in Saudi Arabia or Pakistan, such as making women wear a full face veil.

Experts say the decision to outlaw the face veil will further stigmatize the minority Uighurs.
The ban would "make the veils more popular as a symbol of resistance and assertion of ethno-national identity," James Leibold – an expert on China's ethnic policy from Melbourne's La Trobe University – told Reuters.

"This fits into the larger pattern, keeping up with the trend in the past five years that has really intensified in the last year by the government to try to forcibly reshape and standardize the type of garment among the Uighur females," he added, as quoted by AP.

The Uighurs, who speak a Turkic language, have been beset for years by violence which the Beijing government blames on Islamist militants.

The latest announcement comes just one month after Xinjiang banned the practicing of religion in government buildings, as well as wearing clothes or logos associated with religious extremism.

In August, the northern Xinjiang city of Karamay prohibited young men with beards and women in burqas or hijabs from boarding public buses.

Police have also raided women's dress shops in the province to confiscate full length robes, AP reported.

In 2013, the East Turkestan Islamic Movement – which is listed as a terrorist group by the UN – produced 107 terror-related audio and video materials.

Turkestan is an area of northwest China. It was formed by Uighur militants whose stated aim is independence from China.

In response to the increasing threat, Xinjiang began a one-year campaign against terror-related violence in May, which will last until June 2015.

China is also facing a growing threat from ISIS. In July, Wu Sike, China's special envoy to the Middle East, said that up to 100 Uighurs from Xinjiang may be fighting alongside the militant group.